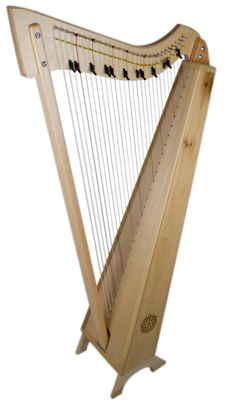 shown w/opt. rosette and levers
Smartwood Harp
Strings:
29 strings, nylon
Range:
4 octaves, G2 - G6
Size:
52" Tall, 11" wide,

only 14 pounds!!

Woods:
Laminated birch neck, maple pillar, aircraft birch soundboard, tulipwood sides
Video:
Introducing the SmartWood Harp
Sound:
This 4-octave floor harp is great for beginners. We call it the Smartwood Harp because you get so much harp for your money - perfect for students, rentals, group classes, road trips, festivals, etc.
SMARTWOOD UPGRADE POLICY
We understand that you may eventually want to trade up to a performance quality harp. So we are happy to offer you 100% of your purchase price towards the cost of a new Musicmaker's Harp.