June 2016
We've redesigned out harp desk bracket.
Our old style bracket used a single wedge.  This worked great but we had to make several different size brackets to accommodate different harp models.  Our new harp bracket uses two wedges.  This allows the harp bracket to fit a pillar anywhere between 1″ and 2-1/4″ thick.  It will also fit a harp with up flange brace (up to 3″) on the front of the pillar.
---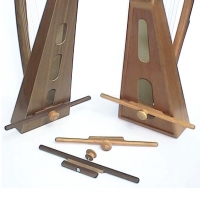 Spruce up your harping experience! Musicmakers offers a variety of innovative harp accessories to make your life easier—from attachable music stands for holding up your sheet music, to attachable harp wheels for helping you transport your harp.
Get More Accessories For Your Harp
Related Reading for Harp Accessories