Discontinued 2016
Produced from 2000 to 2016
2016 Pricing:
Kit – $1849
Finished – $2995 (price did not include levers or a gig bag)

Kit Assembly Instructions
Range C2 to A6
Solid hardwood neck, pillar, frame, and base
Aircraft birch ply soundboard
62″ tall, 29″ deep, 16″ wide
Weight: 37 pounds (cherry) 43 pounds (maple)
For years, the Regency was our best sounding harp. It was replaced in 2016 by the Cheyenne Harp. The Cheyenne uses the same body and string setup as the Regency but the base of the harp has been altered to make it lighter in weight. We also added two strings at the top making the Cheyenne a 36-string harp. Overall, we were able to build the same great sound into the Cheyenne, add two strings, and make it lighter. Wins all around.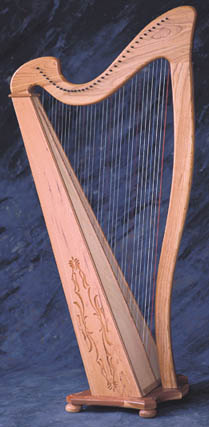 We still sell bluerpints and hardware for the Regency. Click here to learn more.
---
Video