FOR IMMEDIATE RELEASE
MEDIA CONTACT: Matt Edwards | info@harpkit.com | 651-439-9120
National Music Museum Adds Reverie Harp to Exhibits
(Stillwater, MN) – Jerry Brown, founder of Musicmaker's Kits, Inc., in Stillwater, presented a Reverie Harp® to Dr. Margaret Banks, Curator of the National Music Museum in Vermillion, South Dakota on Tuesday, June 12, 2012. The egg-shaped harp was recently invented by Brown's creative staff of luthiers primarily for music therapy purposes. The idea for the instrument was suggested to Musicmakers by Peter Roberts, a music thanatologist living and working in Australia.
The Reverie Harp is a groundbreaking instrument specifically designed for non-musicians and people with physical or mental limitations. It produces soothing musical tones with little or no practice or training – just by plucking or strumming the strings at random. It has been called a universal instrument because of its simplicity, and care-givers are making excellent use of it in a variety of therapy applications all around the world.
Dr. Banks was excited to place the Reverie Harp among the museum's large collection of over 100 zithers, which include some interesting versions produced by one of the Marx brothers during the 1930's. Brown personally delivered his new creation to the museum so he could see the amazing collection of other instruments on display from all over the world.
The Reverie Harp was invented at Musicmaker's Kits, Inc., a small music company that specializes in designing and building unusual stringed instruments not found in traditional music stores, such as: folk harps, dulcimers, psalteries, kalimbas, hurdy gurdies, bouzoukis, kanteles, and more. All instruments can be purchased ready-to-play, or as kits you assemble yourself at home. Brown can be reached at 651-439-9120, and his company website is located at www.harpkit.com. The Reverie Harp retails at $549.
---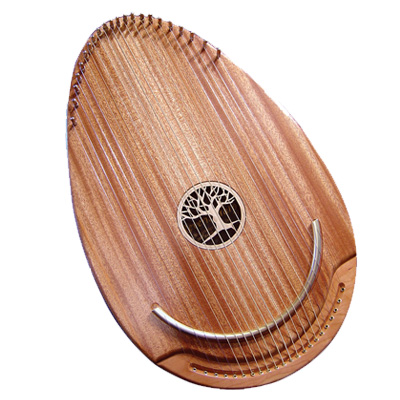 Considering purchasing a Reverie Harp? The Reverie Harp is a music therapy instrument designed to be played by everyone regardless of musical skill and produces soothing music, healing vibrations, and lightweight portability.
Learn More About the Reverie Harp
Related Reading for Reverie Harps