The following is a testimonial written by Charles Glasscock from his woodshop "Chuck's Wooden Wonders".
---
To the folks at MusicMakers;
I have built a number of your pre-cut kits as well as some from plans I bought from you and have been very pleased with the result.
As a retired aerospace maintenance engineer/technical writer, I found the assembly instructions to be very accurate and precise. I had no trouble understanding and following your step-by-step instructions and illustrations.
Having a semi-professional woodworking shop equipped with several large and small power tools helps a great deal. I can honestly assure other would-be builders that the pre-cut kits can be built without the need of any large power tools. Having a few simple hand tools is all it takes to build a beautiful musical instrument.
As long as the builder is careful and follows the instructions, he or she will be very pleased with their finished instrument. The trick is to start with simple projects to gain the skills required before attempting projects that are more difficult. A little time and patience is all it takes.
I am not a musician but I have built a number of instruments for people who are professionals and they have been extremely pleased with the instruments they received. One of the instruments has been very useful in the rehabilitation of a musician who was stricken with Multiple Sclerosis, which ended her professional career.
That particular individual was featured in your article on the Revere Harp. She has found a new lease on life because of the gift of that particular instrument. Ever since she received the instrument from me, she has recovered a great deal and now uses that instrument to bring comfort to others. That to me makes the instrument I built for her priceless. You list the price of the finished instrument but I can assure you that when a person builds something that has such a profound impact on the life of another person; it makes the instrument worth more than money can buy.
The attached photo is of me in my home workshop that is "Chuck's Wooden Wonders". As you can see I am wheelchair bound so my shop and all of my workbenches and tables are designed and built to accommodate working from the wheelchair. Just one more testament for your kits and plans. I developed my shop while building some of your instruments and have since branched out to make classic wooden toys, and Intarsia style carvings. That has given me the incentive to continue living life to the fullest. My shop and the woodworking is what keeps me going.
Thanks to all of you at MusicMakers for allowing me to bring the gift of happiness and life to another human being.
—Charles Glasscock
Featured Image Source : Pixabay
---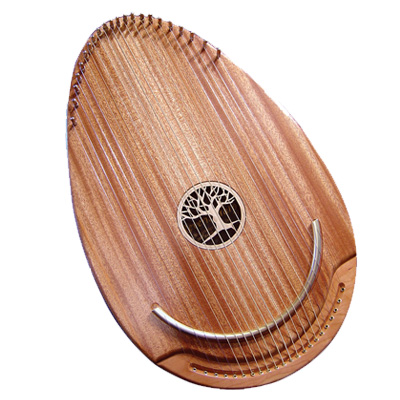 Considering purchasing a Reverie Harp? The Reverie Harp is a music therapy instrument designed to be played by everyone regardless of musical skill and produces soothing music, healing vibrations, and lightweight portability.
Learn More About the Reverie Harp
Related Reading for Reverie Harps