Charlie:

With your gift of the Reverie Harp, a new light has been added to my life. Three years ago, during my last MS exacerbation, I lost much more than my ability to play the violin. Those first 12 months were my darkest days. Between not being able to play the violin and an MS­-forced retirement after more than 30 years of teaching music to children in the classroom, I was becoming very depressed.
At the end of my first year of recovery I began playing violin again with my youngest private students. I couldn't play very well but I felt safe with them; they appreciated anything I did - they were too inexperienced to notice my weak technique and this gave me confidence to try to play again. During the second year of recovery I was asked to play for 2 funerals and a wedding. All these events were for very special relatives so I wouldn't say no. These events pushed me into working harder and, after a lot of practice and perseverance, I was able to play for these large family events.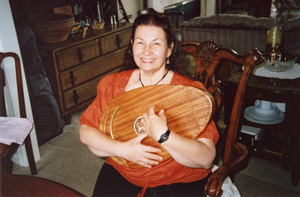 At the beginning of my 3rd year of recovery (August 2008) during our trip to visit you and Marilyn and the boys, I was immediately drawn to the reverie harp. When I heard the instrument that you made for Marilyn I knew that the reverie harp was in some way what I needed.
I can only imagine the amount of intense focus and concentration you must have placed on building that Reverie harp to have it ready in time for Marilyn and the boys to present to me on Thanksgiving Day. Your gift of this harp has gone far beyond being a gift to me. This beautiful instrument has become a new "healing vibration" in my life. Not just for me but also for many, many of my friends and family. I have been able to learn a new way of reaching out and communicating with people.
Communicating with words has never been a strength for me. I have always communicated best, from my heart, through music (voice and violin). When I lost my ability to play violin I felt very lost and alone. When I was handed the harp on Thanksgiving Day I felt an immediate surge of joy I hadn't felt in a very long time. Indeed, it has proven to be just what would bring me to the next level of my recovery.
I have been playing the reverie harp at least once a week since January during meditation class. Without exception, everyone in the class has expressed appreciation for the deep state of grace that the sound from this instrument brings to them in their meditation. Another way I have been blessed by the harp has been during my visits to a local hospital - a long-term-care facility near our home here on the coast side. One of the ideas I have been thinking about for the last couple of years has been to visit patients in this hospital. Recently, I had the opportunity to do just that: the reverie harp proved to be a wonderful form of "non-verbal" communication when I played. It has proven to be especially significant for those patients who are unable to speak. It has been such a gift to me to feel joy when I look in their eyes while I play for them. I could go on, but suffice it to say that your gift has changed my life in ways I cannot express adequately in words. Indeed, you have helped this third year of recovery to be one full of grace.
Words cannot express my appreciation for your wonderful gift. You are a kind and generous soul.
Thank you and Love always,

Claudine