Leia's Harp

It has always been a personal woodworking goal of mine to build a musical instrument. This aspiration moved up a notch last year when a brand new baby granddaughter arrived on the scene. As she is paternally Irish (our baby's name is Leia Keane) with the help of Google I launched a search for harp kits and came up with Musicmakers Kits of Stillwater, MN. The web site is very well done with all of the information needed to make a sound decision. From order to arrival it took no more than a week for the kit to arrive in the post.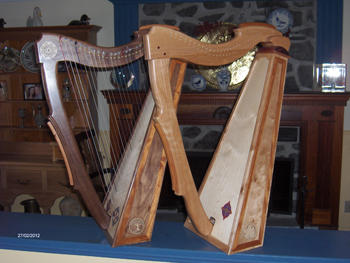 All harp components from sides to neck and pillar were superbly fashioned with complete accuracy. The instructions included were very much like a correspondence course in harp-making with all of the steps clearly laid out, and an abundance of technical tips to enhance success.
I have a reasonably well equipped outdoor wood shop with all of the usual stationary machine tools. But as I live in Canada, two obvious factors: snow and arctic temperatures discourage use of this shop during the winter months. I therefore decided to make the Limerick harp and another one from scratch using only hand tools. To consolidate domestic harmony there would be no sanding, only hand planning and scraping and with this in mind I set up my work mate next to a window in my office.

I was surprised how quickly everything progressed, using only hand tools. But being in woodworking terms "of faint heart" I decided to try out all steps first on a second "from scratch" harp before launching myself on to what is now known as Leia's harp.

I had some 8/4 Quebec yellow birch on hand plus one board of mahogany for the inlay strips. And to be brutally honest I cheated a bit. One morning when the temperature was a positively tropical -8c I snuck into my snow bound wood shop to use the table saw for the sound board grooves and to cut mahogany strips. I would add that it became quickly apparent that the sound box is a maze of compound angles and the sound board grooves and top and bottom rabbets require the use of a sliding "T" bevel to get the angle just right. The wood gods were on my side (for once) and this worked out well.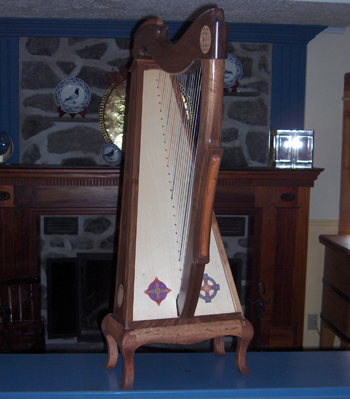 Back in my warm cubby hole I used a turning/bow saw I made last summer to cut out the neck and pillar. This has only become technically possible, because Gramercy Tools in NYC now make 3 excellent blades for a 12" bow saw. With complete accuracy I was able to cut through 2" birch just proud of the line. Two hand tools were particularly useful in cleaning up and shaping the component parts: a chair maker's travisher and a violin maker's 1 7/8" long mini compass plane.
I used a piece of purple heart for the knuckle dome on top of the box. Again using the mini compass plane I was able to fit the neck claw (for lack of a better description) to the dome, canted slightly to the left, with a good, tight fit. Where the dome joined the box I fitted a tiny roundover moulding to break up the roundness of the top (and to be honest to fill a gap).

The next part was a pleasant surprise. I wanted to add some ornamentation to make Leia's harp special. Looking through the catalogue I noticed a good selection of decorative rosettes and Celtic decals. The rosettes take some time to get use to as they are laser etched on very thin plywood. And to look the part each rosette had to be inlayed completely flush, not an easy task. The risks were now very high and I was reluctant to make use of a modern router. Luckily I had bought a router plane at a flea market a few years ago and this outstanding tool (also known by the politically incorrect name of old woman's tooth), fairly quickly and completely accurately made the inlay channels both for the rosettes and the mahogany strips. I tapered the rosettes on the underside with sand paper. The fit was perfect; in fact too perfect and I had to pry out the first rosette with the tip of a penknife.

Banished to the dark basement I was able to do all of my pre-finishing sanding, all the way up to 220 grit. As I am impatient by nature I absolutely loathe sanding. But over the years the intense pain of shabby finishes has forced me to get over the mind-numbing nature of the task but every so often I have to give myself a good talking to, take myself upstairs for a cup of tea, and simply upwards and onwards again with the hard work.

Finally the finish. The recommended finish: the wipe on gel urethane is a relatively new product on the market but produces an incredibly flawless finish – the modern equivalent of a satin French polish. Again patience is needed; I applied about 15 coats of natural gel stain (one per day), and towards the end of the process used high grit sand paper (from 340 to 660) to get rid of dust nibs which happily with this product are relatively few. When finished the inlaid rosettes looked fantastic, nothing like the thin bits of plywood that first arrived in the post. They look more like beautifully figured ivory carvings. In short I believe they transform the harp into a thing of beauty. Well done Musicmakers on producing this innovative side product.

I'll end here. The stringing went well but I broke 2 base strings. Did everything else go according to plan? No. Were there a few mini disasters? Yes, almost certainly. The first major one was during the mahogany inlay phase. I quickly discovered that when an inlay channel on the outside meets a rabbet on the inside at the bottom, the direct result is no material at all. But thanks to the miraculous nature of PVA glue I survived to tell this tale. The second disaster I really did not anticipate. I wanted to give Leia a glimpse of both her Anglo Saxon and Irish heritages and so I planned to include 2 decals on the front sound board: a Canterbury cross and an Irish cross. Having resisted a life-long tendency to never, ever read instructions I thoroughly digested the first-class instructions and successfully installed the Irish cross. When it came to the English cross, with a coat of gel urethane to seal everything in, before my very eyes the varnish devoured the English cross but left the Irish cross unscathed. I can only attribute this to some form of Black and Tan voodoo at play. Debi of customer service was marvelous and I was sent another one by priority post. This one went on without a hitch.

All together I can only sing the many praises of the Limerick harp kit. I thoroughly enjoyed the entire building experience and without reservation will order other kits in the future. I am well and truly hooked on making musical instruments. What I hope to share with this missive from the wintery wastes of Canada is that it is entirely possible to make beautiful, highly ornamented harps using only hand tools. I do not think it adds all that much completion time to the process. And as Leia is now only 10 months old, we will have to be somewhat patient for her to start her music lessons.