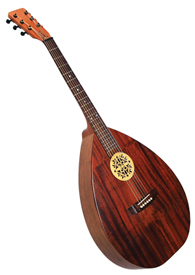 The design and shape of this guitar is inspired from 17th century lute-style instruments. The large solid mahogany soundboard provides a big warm tone! Very popular among wandering minstrels at Renaissance Festivals!
Solid Mahogany Top
Solid Walnut Sides
Walnut Ply Back
Rosewood Fingerboard
Double Action Truss Rod
25-7/16" Scale length
Neck meets body at 14th fret

Shop Renaissance Guitar
---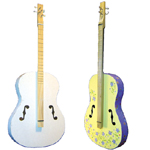 Our cardboard guitars are popular both at home and as school projects. Suitable for kids agges 9+. You can assemble one of these guitars in about 4 hours. Endless decorating possibilities - let your imagination run wild. Add the simple 2-chord song book and kids can be playing real songs right away!

Shop Cardboard Guitar