Gothic Harp KIT
gothkit
$1,299.00

Product Details
---
Gothic Harp KIT
Info
Last Gothic Harp Kit The Gothic Harp has been discontinued. This is the last kit in stock.
Our Gothic harps are our most challenging harps to build. Plan to spend a good 40 hours on this project. You'll need a large work table, a half dozen clamps, an electric hand drill, an electric palm sander, and an assortment of normal hand tools. It will also be helpful to ask a friend to assist with a couple assembly steps that require four hands.

Download Assembly Instructions (PDF)
In the Kit
This kit comes with all of the pre-cut wood parts, musical hardware, strings, and tuning wrench. It also includes a detailed set of assembly instructions.
You will supply woodworking glue, a varnish of your choice, tools, and clamps.
Testimonials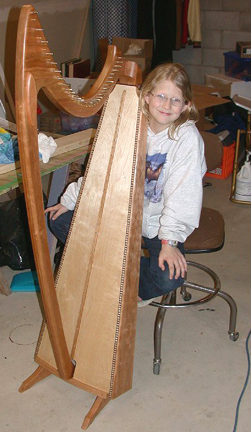 I thought you might be interested in a photo gallery I put together. Five years ago we bought a Gothic 31 kit so I could build a harp for my daughter, Katie (age 9 at the time). I took photos throughout the project and now have a photo gallery showing each step: the harp project
Now I've never played an instrument before and don't necessarily have a music ear, but I am amazed at how loud and how beautiful it sounds. That soundboard really amplifies things.
Five years later and my daughter is still taking weekly lessons and practicing every day...ok, most days.
I am very happy with how this project turned out. There are a few minor mistakes I made but unless you look for them, you probably won't find them. It certainly doesn't affect the sound. Now that I've built one, I'd really like to build another, applying what I've learned in building the first.
Thanks for an excellent, affordable kit. I've got a lot of friends and family who are pretty interested in this project and I've been highly recommending Musicmakers, both for the quality of the kit, and the quality of customer service.
Regards,
Patrick Lehnherr
Good products and service.
This is the second harp kit I have made. Matt and Cody were a great help. I highly recommend MusicMakers.
---