Used Jolie Harp
This used Jolie Harp was built by Musicmakers in 2016. It is one of the early models with 32 strings and a straight pillar.
The harp has Truitt levers and comes with a hand-sewn cover.
It has few dings and dents but nothing serious. We've just installed a brand new set of strings and polished it up. It looks, plays, and sounds great. This harp has a long life ahead of it and will someone very happy.
---
The height, balance, tone, and overall feel of the Jolie Harp is captivating. Gorgeous cherry wood grain and clean design elements have made this a very popular model.
33 strings provide a range suitable for a wide variety of music. The tension is just on the high side of medium - not too hard on the hands but tight enough to allow for some aggressive playing and broad dynamics.
What's Included:
Finished Jolie Harp with Camacs Levers
Padded Gig Bag
Tuning Wrench
Free shipping in the Continental US
Owner's Manual
The Jolie Harp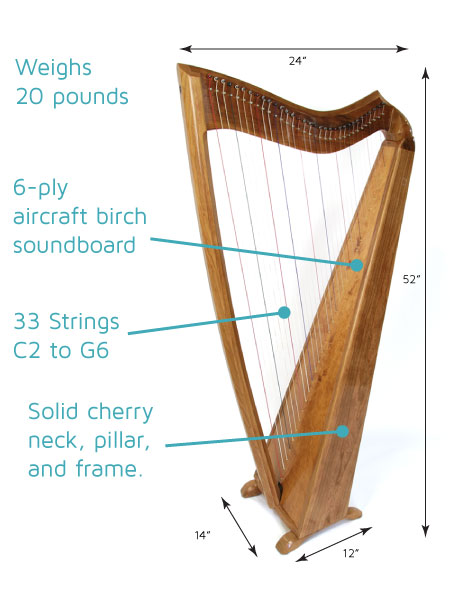 | | |
| --- | --- |
| Strings | 32 |
| Range | C2 to F6 (String Chart) |
| Weight | 20 pounds |
| String Spacing | Concert - Medium |
| String Tension | High |
| Sharping Levers | Camac |
| Gig Bag | Included |
| Size | 52" tall, 24" deep, 14" wide |
| Soundboard | Aircraft Birch |
| Body, Neck, Pillar | Cherry |
| Warranty | Musicmakers 5 Year Warranty |
Joyful Harp!!
Karen Munson
11/11/2020
Verified Buyer
I just wanted to share how much I love my harp. I've played violin from elementary school through college, and pick it up once in awhile, yet really wanted a different musical experience... learning the harp was laid on my heart, and I found your business. I cannot begin to thank you, and/or to express how much joy it brings to my life, and to others that I play for... so much that I named my harp Joy! The tone is out of this world... even playing "twinkle twinkle little star," the sound is incredible. I invested in the wheels recently, they are amazing :)
5 of 5 customers found this helpful.