All About Strumbly
Info

What is Strumbly?
Simply put - Strumbly is the easiest musical instrument you will ever play.
You can play songs using just one finger so you don't have to worry about contorting your hand into complex chord shapes.


Strumbly uses a play by number system and the numbers are stamped right on the neck. This literally makes playing songs as easy as 1-2-3.


Strumbly is designed in such a way that you strum all the strings when you play songs so you don't have to worry about plucking the right strings.

Video:
Matt demonstrates Strumbly
You can think of Strumbly as a "gateway" musical instrument. Many people begin trying to learn guitar or dulcimer and give up because of the steep learning curve.
Strumbly has almost no learning curve allowing you to be successful and musical IMMEDIATELY.
I just finished my Strumbly, and it looks and sounds like a million bucks! I've tried to learn guitar three or four times, and couldn't get the hang of it, but with Strumbly, I was singing and playing from your songbook ten minutes after I finished stringing it!
- J. David Bavousett
Tuning

How do you tune Strumbly?
If you want to strum all the strings while you play melodies it is important to get your strumbly in tune. There are quite a few ways to tune your Strumbly. Keep reading to learn a few.
The standard tuning used in the beginner songbook is DGD which plays in the Key of G.
1. Electronic Tuners - The easiest way to tune Strumbly is to use and electronic tuner. You can find these at just about any music store or you can buy one from us -
Korg CA 1
2. Online Resources - We have a few resources on our website to help you get Strumbly in tune.
Try our Free Online Tuner.
Use this audio clip:

3. Relative Tuning - You can actually tune Strumbly to itself. This means that you don't need any external tuning refernce. We describe this process in our beginning songbook which you can download below. Or check out the short video and watch Matt use this method

The Strumbly Songbook, Vol. 1

Video:
Matt tunes Strumbly
I've tried to learn how to play many instruments - harmonica, banjo, bones, but the Strumbly is the only instrument I have successfully learned to play - literally in 10 minutes.
- Jim Harrison
Playing
How do you play Strumbly?
One of the reasons Strumbly is so successful is because it can be as easy as you want. Described below are five differnent ways that you can play Strumbly along with a short video that demonstrates each method.
Method 1 - Just the Melody
Using the songs in the beginner songbook you can literally start playing immediately. You don't even need to tune Strumbly. Just follow the numbers and make sure you only play one string.

Method 2 - Playing all the Strings
This isn't really much different than method one except that you have tuned all the strings. When all the strings are in tune you can strum all the strings as you play the melody. This adds richness and depth, making you sound like you are doing a lot more than you are.
---
Method 3 - Playing Duets
Making music is fun but making music with others is a true delight. All of the printed songs for Strumbly include chord names that make it easy to play with other musicians.
---
Method 4 - Playing and Singing
You will find some simple chords in the songbooks. When you are ready you can learn how to play chords. Using either songbook you can strum the chords as you sing the lyrics. (Chord Charts - PDF)
---
Method 5 - Branching Out
The Advanced Strumbly Songbook includes more information on strumming patterns and different tunings. This opens up lots of possibilities to just improvise and have fun. It always helps if you can round up a cajon player!
---
Method 6 - Play with the Band
Ever wanted to play in a band? Well now you can! Here are a few tracks featuring The Strum-Tones. All the songs are from the beginning songbook included with every Strumbly.
Each song is played through 3 times. The first time through you will hear a Strumbly playing the melody to help you get the feel of the song. The next 2 times through YOU take the lead and play the melody!
Home on the Range
Right click title and choose "save link as" to download MP3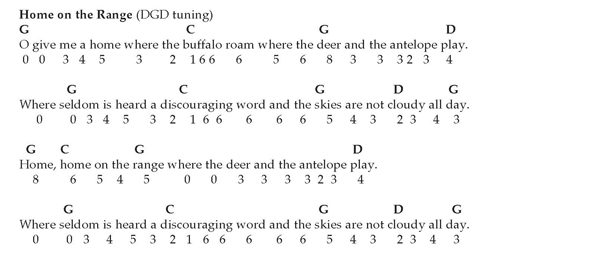 ---
You Are My Sunshine
Right click title and choose "save link as" to download MP3
I will say that I have not had so much fun, nor gained so much pleasure from any instrumant than I have from my Strumbly.
- Anne Maguire