Cajon - KIT
cajonkit
$119.00

Cajon - KIT
cajonkit
$119.00
Product Details
---
Info
The Cajon box drum is very easy to assemble. You don't even need clamps - just tape and glue! The decorating possiblities are endless - paint, woodburn, stain, stickers, decals, etc. This is a great project to work on with kids. They'll love decorating and then tapping out some fun rhythms.

Download Assembly Instructions (PDF)
Assembly Videos
Watch as Matt assembles the Box Cajon.
There are 4 videos in this series... so scroll down to watch them all!
Testimonials
Hi Matt,
You guys are something special. Other musical companies have never sent me a hand written note, nor a follow up email as nice as yours!
We LOVE the cajon kit. LOVE IT. I have a small but very active Instrument Construction class, and they are having a great time putting this thing together. And all the musicians in the school cannot wait for them to finish so they can play it.
I've attached a picture. The young gents are in 10th grade, and are currently sanding the cajon in preparation of staining.
I'll send a picture when it's finished.
All the best,
Jason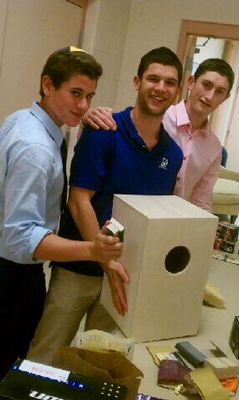 &nbsp