Cigar Box Ukulele KIT
cigarkit
$49.00

Cigar Box Ukulele KIT
cigarkit
$49.00
Product Details
---
Info
These kits are almost too easy. You can have one of these strung up and ready to play in as little as 90 minutes.
Download the assembly instructions and see just how easy it is!

Assembly Instructions (PDF)
Please note that the actual cigar box included with your kit will be subject to what we have on hand.
Testimonials
---
Micah is not quite five. He was able to help with the sanding, screwing the neck to the box (after I drilled the holes), holding one end of the strings taught while I tied the knots, threading the strings through the holes in the tuning pins, and turning the tuning key. It was his choice to mount the neck on the bottom of the box so he can open the secret compartment more easily. I glued on the toothpicks, broke off the ends and applied the hand-rubbed (tung oil) finish.
Thanks for the FUN PROJECT!
Peg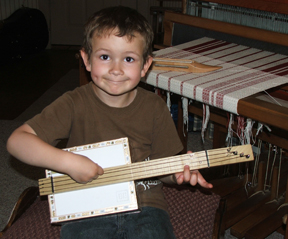 Micah demonstrating a G chord.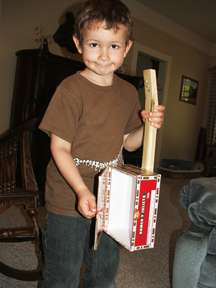 Micah showing the "secret compartment" where he can stash a snack - in case he gets hungry in the middle of a gig.
---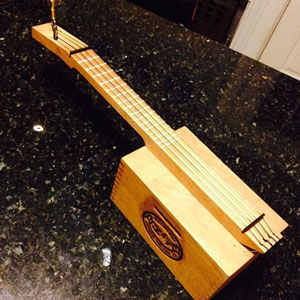 Good afternoon,
I ordered your "Cigar box Ukulele Kit" and couldn't be happier. It arrived yesterday and I went to work on it ASAP. Later that night I had it completed and sounding beautiful. I did use a cigar box I had on hand rather than the one sent with the kit, but purely to play to the aesthetic I was aiming for. This kit really opened up a door for me. I would and will recommend it to anyone else.
Very satisfied,
Karl
---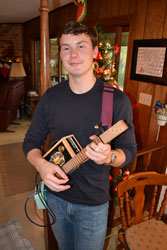 I purchased your cigar box uke kit and love it! I've done a few modifications and added a few bells and whistles. I've included a picture of my cousin holding it at a family event. It's got a handle and a few latches on the bottom to keep in closed, when i'm done with it I just put all of my items (tuner, tuning key, strap, cable, spare strings, paper, pen) inside and close the latches and carry it around like a suitcase. I also added a new pickup from c.b. gitty with a volume pot. Thanks again for the kit, it has opened a big door for me.
Thanks so much,
Joseph Stramm
&nbsp