Info
Customer Builds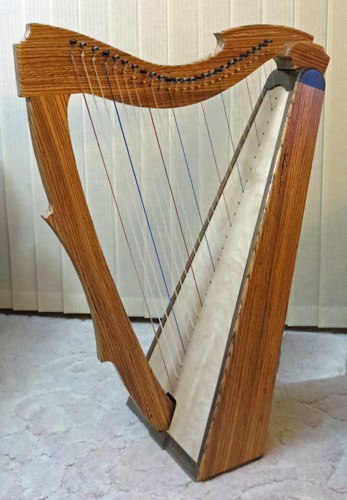 Matt,
I completed this Limerick harp from your plans about 2 weeks ago. The strings have stabilized very well and the sound is amazing! I used threaded through pins for the tuning pins and brass hexagonal bridge pins. I will be installing Truitt levers on it when they arrive.
The neck, pillar, sides and back are of Zebrawood. The top cap, soundboard trim and base trim are Walnut. Aircraft plywood (3mm, 6 ply) was used for the soundboard with a string rib of Hard Maple.The sides are 3/8" thick with liners made from solid Beech. The liners are 3/4" wide at the base and 5/8" wide at the top. The base is made from solid Beech.
The weight of the harp is 12 3/4 lbs.

Ellis McMullin
Also a great wire strung
This is a very nice harp. It can also be easily converted to a "classic wire strung clarsach with brass or bronze strings if you do not want steel that Musicmakers supplies. The conversion is simple: make the sides 1//4" thick and glue a hardwood board on top; place the tuning pegs where the bridge pins would otherwise go. Use the free string analysis spreadsheet that MM provides for the new strings, range G to d.
Biagio Sancetta
01/01/2020
3 of 4 customers found this helpful.
The harp turned out great!
I gave these plans to a wonderful woodworker, to make a harp for one of my students. He's not a luthier, or rather, he wasn't a luthier. The plans are clear and pretty easy to follow, even for the weird angles of the neck and pillar joints with the soundbox, He did make one error, and the finished harp has 27 strings, but that's fine, and not a problem with these plans. (If you're a software engineer, you know about the "fence post" problem.)
Jerry Bauer
06/21/2019
Verified Buyer
harp plans
wonderfull fast service,I will stay with musicmakers for any spare parts i may need
kenneth harvey
12/21/2017
Verified Buyer