Testimonials: Banjos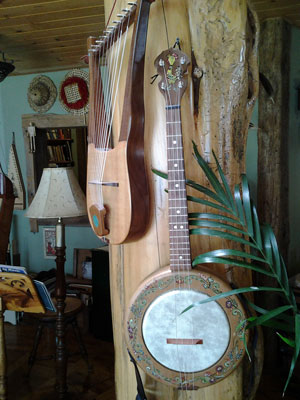 Dear Jerry, I so want to THANK YOU for telling me about this wonderful happy instrument. I've sooooooooooo enjoyed it.
- Irene
---
I built an Irish Tenor mountain banjo kit. It was my birthday present this year. I love the banjo. I put some Celtic artwork on the wooden pot to make it mine, and it's a lovely banjo. The building instructions are excellent, as usual. I had a great time building it. I had some new woodworking adventures, such as the inlay pearl fret marker dots, and shaping the headstock. It was fun, though.
The setup was a cinch, too. I love the design of the neck to banjo pot connection, and how easy it is to adjust the neck angle with one set screw and an allen key. The skinhead tightening system is terrific too. Its much easier to adjust a hoop inside the pot with an allen key, than brackets on a typical open back banjo. The mountain banjo is also much lighter in weight than my open back banjo. It's made of beautiful cherry and walnut.
I showed it to my dad, who loves Bluegrass music, but had never heard of either Irish tenor banjos or mountain banjos. I dusted off Firefox 3 and showed him a mountain banjo. I found a Frank Proffitt video of" Cluck Old Hen" on You Tube, and he said I ought to build a 5 string banjo like tenor banjo, too. Now, when anyone comes over, he says, "Show him your banjo!". I think my next kit is going to be the 5 string banjo. I have an inexpensive open back banjo, and I'm having fun learning to play it, too. But I'm spoiled now with my wonderfull wooden Musicmakers tenor banjo. I know I'll build a five stringer at some point, too. Great kit , great customer service, too. I'll be back! I really like mountain banjos. I'm so glad I tried this kit! LOL,
Sue
---
Music Markers Team,
I would to thank all of you for the nice visit to your shop over the Thanksgiving holiday. My wife, brother and sister in law, and myself really enjoyed talking with Cody and the tour of the shop.
As I said upon leaving the shop I would send some pictures of the banjo I recently completed. I enjoyed making the banjo and it plays beautifully. I did add some embellishments to the peg head and to the head. I inlayed turquoise stone with gold paint trim to the peg head. Then I used my scroll saw to cut out mahogany leaf shapes; which I carved into there final shape. I superglued them into place on the banjo head. I also had a local leather maker friend make me a strap which the Trinity Celtic design I used on the peg head.
I look forward making some other instruments in the future.
Merry Christmas and Happy New Year, Tim and Jan Micinski, Mishawaka, IN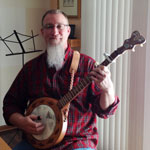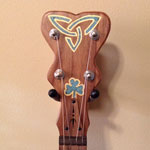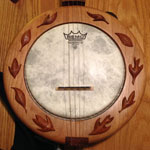 click pictures to enlarge
---
The Cumberland Mountain Banjo is one fine little banjo. Good old time woody, plunky sound, especially good for us clawhammer players. I play at Old Time events, and folks are always asking about this banjo. They say it is the best looking mountain banjo that they have ever seen, and I agree with them. I did put banjo tuners on it, which makes it look better than the ones that come with the kit. I have several banjos, and this is my favorite one, probably because I built it myself.
William P. Arinder
Amory, MS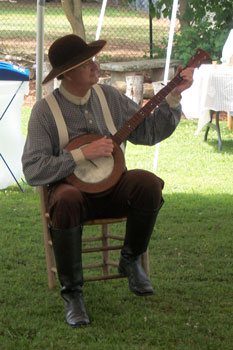 ---
Dear Musicmakers:
Here are pictures of Brian, an eleventh grade Wood Shop student at Pine Ridge High School in Deltona, Florida, with his scratch built banjo using your blueprints and parts ordered from your catalogue. Brian won the "Best in Show" award for student woodworking in the recent Volusia County Fair, held in Deland Florida. He used cherry and maple to form both the neck and the body, alternating layers, to get the desired affect, as well as using rosewood to build his fretboard. Brian found building the banjo to be a rewarding challenge, as well as a great learning experience in advanced woodworking.
Sincerely yours,
Alan Aiello
Production Technology Teacher
Pine Ridge High School
Deltona, Florida
---
Jerry,
I made a cherry Cumberland banjo last May at Stringalong. It has taken a while to get the frailing technique down, but I am working on it some.
I went to the Ohio Valley Gathering, sponsored by the Louisville Dulcimer Society last weekend. A friend & I presented an acoustic folk instrument workshop on Pachelbel's Canon in D. I played the harmonic continuo part on my guitar. But I also attended a couple of banjo workshops &amp played a Deering Goodtime Banjo that was available at one of the vendor's booths.
Mine sounded so much better & was much easier to play. The Goodtime banjo was louder, but had a mushier sound & action. I really want a softer, mellower sound and I get that from my Cumberland banjo and it is stuffed with a washcloth & a hand towel. It can be loud if I want it to be. As I get better with the frailing technique, I am sure I will get the bounce of that style too. As my banjo seemed much more responsive to my right hand technique.
So thanks again. It was fun to make that banjo. When you come back to Stringalong, I will try another project.
Stephen Van Houten