Testimonial: Customer Service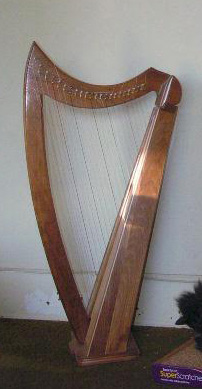 Fellow Musicmakers,
It is about time that I wrote to thank you for the years of pleasure you've given me! So let me give you my testimonials and a few pictures.
First of all: I'm not a musician. Can't read a note, can barely carry a tune. I'm an old, prehistoric Beat who remembers The Weavers and still reads Gregory Corso and Jack Kerouac. Heck, I still wear turtlenecks and berets.
Back in 2009, my wife spent most of that year in the hospital when stricken with her final illness. (Sad part here.) When not by her bedside, I was at home, worried and depressed. Remembering a cute little thing like a balalaika that a friend had built, I decided to make one myself. Busy hands....y'know? The result was a Strumbly that I happily noodled away on. One of my Patty's favorite songs was "You Are My Sunshine", so I took my new toy to the hospital one night and astonished her by playing it.
Now, Patty was Irish and noticed the harps in your catalogue, especially the Celtic ones. Soon, I had a commission. Later, Patty had her harp, which she plunked happily away on. She never learned to play it in this life, but I suspect that she has learned in her new one, after she passed away in 2010.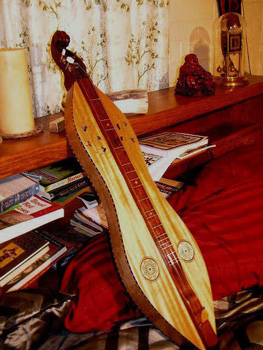 Jump forward a few months. Remember my comment about being an old Beatnik? I was contacted on Facebook by a lady friend from those days: a folksinger in our coffee house. We'd not seen one another in forty years, and had 1500 miles between us. I was inspired to rouse myself out of my grief and DO something. The result was a mountain dulcimer. I'd gone all out, because this was to be a gift for my sensitive, artistic old friend.
The scroll neck got carved into a genuine scroll. Ivy vines were carved into the soundboard around leaf-shaped sound holes. Fancy banding around the edges. The result was beautiful. Then I was stuck for a way to get it to her. Didn't trust UPS or any other service, so it sat here until I took a road trip this Spring back to my old home state of Illinois. When I put it in her hands and she played it for the first time: it came to life! It was one of the most moving experiences I've ever had.
Those are the high points of my association with you wonderful folks. In addition, I've built your lyre, a psalmodikon, a Reverie Harp and a hognose psaltery. A hurdy-gurdy is on my wish list, if I can scrape together the shekels to buy the kit! You folks have actually started me on a new profession!
Your friend,
Charles Prokopp
Arizona

---
Matt,
In reply to your email as to how pleased we are, all three instruments (strumbly, psalmodikon, and dulcimer) in kit form have turned out to be better than expected and easy to assemble using your very easy to follow instructions.
Yours,
John Harmes
Western Australia
---
Greetings,
My experience with Musicmakers has been excellent! The Uke kit arrived in just a couple of days. There were a couple of missing parts but they arrived before the weekend. The kit was well made and well engineered, I can't tell you how it sounds yet because it isn't finished.
You guys are great! Great product. Great service. What more could I ask for?
Thank you,
Martin Haines
California
---
I started making instruments from your plans in early 2014 and since then I have built at least one of every instrument plan you offer with the exception of the Gothic and Regency harp. I've even bought a few kits that you don't offer plans for.
I've learned a lot over the past few years and some of your plans I've made what I would call "improvements" on. I have a room full of instruments. I have not sold any and I haven't really tried to, but I've given many away to kids and seniors who exhibited a keen interest in one for one reason or another.
I'll still be checking out your website occasionally and will probably order some parts from time to time.
Arthur Glesner
Florida
---
Your service is phenomenal!! Your company has never disappointed us. I bought the harp kit many years ago from you....put it together for my wife and we both enjoy it. Also put together a banjo for our son.
Glad to receive your catalogue at our new retirement address.
Ron Bjorgan
British Columbia
---
Hi Matt,
I recently purchased a gig bag for my harp from your company.
I had been having trouble finding one; my harp was made by a craftsman on Etsy who did not have access to bags or cases. Even though this is a lap/travel harp, I paid just short of $1K for it, so I definitely wanted to protect it. I looked all over the Internet with no luck. Then I remembered your company. I had purchased one of the Reverie harps a while back, and even though I bought it through people in Canada, I did interact with your company and was very pleased. I sent the measurements of my harp to you, and you (Matt) recommended a particular bag, believing it would fit. Not only does the harp fit in the bag, it looks like the bag was made for it. The bag itself is lovely, made of a fairly heavy canvas material with lots of pockets to hold all the doodads one inevitably seems to collect.
I'm more than delighted with the service and product I received and would not hesitate to recommend your company to anybody asking about harps or the other products you carry. I look forward to doing business with you again in the future.
Thank you, and Merry Christmas,
Pam
The Yarn Goddess
---
Satisfied in every way. Great products. Great prices. Very prompt delivery. One of the very few companies I do business with that I'd rate five star all the way.
---
Matt,
I have been very pleased in doing business with MM. I have been treated with kindness and friendliness, and questions have been answered by Cody, Mickaela, Jerry, and, of course, you, Matt, promptly and accurately. In short, I am completely satisfied and no complaints at all. I probably won't be buying any thing from MM in the near future as I have everything I really wanted, but please keep me on your mailing list. I like reading your catalogue and getting the e-mails and updates.
So, Matt, thank you for the wonderful art works MM makes and your good service, too. I would like to wish everyone at MM a happy and blessed Christmas and a wonderful 2016.
Sincerely,
Don Graff
---
Thank you for continuing to make exceptional instruments at affordable prices. There are a couple more I have had my eye on for the future and look forward to doing business with you again.

Carol
---
Jerry, Cody, Matt and all the staff answered all our questions throughout the whole process! Never have we seen such dedicated and complete customer service. Jerry was available to answer phone questions during the building process too! The directions were a breath of fresh air. I'm sure most people know what I mean when I say that most items you have to assemble these days, if they even come with a manual that's not online, are impossible to decipher! Reading through the MusicMakers instructions was like having someone who speaks your same language talking you through each step.
We are so thrilled with our Voyageur harp! Thank you, MusicMakers, for making this possible for us!
Jon Lindblom, piano technician and rebuilder.
88 KEYS PIANO, INC]
---
Thank you so much for this email, and also for talking to me on the phone. I am so proud to have a beautiful harp from Musicmakers!! And the way you handled this....superb!! The family will certainly purchase the harp, and now both of my students will have Musicmaker harps!
Such great quality, and you have been so helpful each time I have called!!
I cannot thank you enough!!
Judy Ferreri
---
Thank you for your note. We are very happy with Musicmakers. Everyone we have talked to has been kind, courteous, helpful, and extremely competent. All warnings were timely and the only mistakes we made were from not carefully heeding the warnings. We now have a small trio, a Kantele, Psalmodikon, and a Bowed Psaltery. We are already playing some ancient hymns and find the music very edifying. Thank you for you sincere service and servant spirit.
Gary
---
Dear friends at Harpkit,

Thank you for your recent email I would just like to say thank you for your fast and efficient service. I found your web site easy to follow and use. I received dulcimer hardware and plans as a Christmas present which included everything I needed except the wood which I purchased from my local dealer. As the bridges were an intricate part of things I decided to buy from you which you despatched promptly. I would recommend you to friends and say to would-be buyers they can purchase your products with confidence and with friendly service and advice.
Yours faithfully
With grateful thanks
Mr. G. Walker
---
I received the Walnut tape that was left out of my recent order. i had noticed it was missing but decided to say nothing since I can't afford to build the Shepard Harp out of Walnut anyway and wouldn't need the tape. The only lumber yard that stocks it down here is really proud of it and their pride is reflected in the price. I appreciate your paying attention and noticing the omission and sending it along anyway.
Music Makers continues to amaze me with the quality of their service and the friendliness of it's staff. Ya'll are some outstanding folks and I hope you'll stay in business for many years to come. I still think more American companies should model themselves after Music Makers in the way you do business and they way you treat people. Thanks for all you do up there.
~John
---
You filled the order promptly and accurately. Thank you.
Louise
---
I appreciated the swift, uncomplicated service to Canada. This purchase was the most friendly and personal online experience...like shopping at a favorite local merchant. Small businesses should take notice and emulate Musicmakers building of customer rapport.
~Nadine
---
I have nothing but praise for Musicmaker's and always look forward to your colorful catalogs. Sadly, I've retired from building instruments now but enjoy looking at your building instructions online and imagine that I'm building another beautiful instrument.
And thanks for the entertaining emails, Matt.
As ever,
Bill Pace
---
I got the new geared banjo tuners for my mtn. dulcimer today. They are exactly what I wanted. Thank you to the tech who took the time to measure one to make sure that they would fit my instrument. I now have a short history with your company and have bought components and plans for a few of the instruments that I have built. I have yet to be disappointed with either the service or the quality of the products.
-George
---
C.R. "Buck" Owens built all of these instruments using plans from Musicmakers. "Anytime I had a question or ran into a problem, Jerry or the rest of the staff were always willing and available to help." Pictured are a banjimer, harp, teardrop dulcimer, suitcase bass, mandolin, hourglass dulcimer, and two psaltries.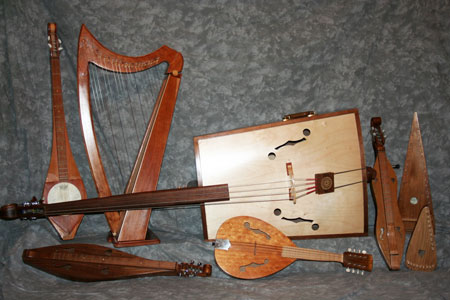 ---
Hi Matt!
Always a pleasure to purchase from your Company! I couldn't find the "pin tightener" liquid anywhere local.....but really wanted to try this on an older harp that I purchased....I was so happy that you carried it and your shipping is always FAST! I appreciate your Company so much! Don't ever change!
Sincerely,
Laura-Lynn
---
Very pleased with your stuff and rapid delivery. Am making my sixth stringed instrument. Great hobby!
Thank you.
John D.
---
The packages arrived here in az in 2 days. I was very pleased. My latest Shepherds Harp will be finished tomorrow. You guys are the best.
Milt
---
Your service is great as are your items.
Charlie
---
Hi Matt,
The Harp arrived this evening. I just can't put it down! It's beautiful to look at and the sound is mesmerizing! Thank you so much for such a beautiful product and your attention to my inquiries!
Stay "tuned" you'll be getting a glowing 5-Star review!
Blessings,
Jaye
---
Just wanted to say thanks for the fast service and a great product.
Dick Milewski
Lancaster, NY
---
Hello Everyone,

I have had a fun time putting together the kits you see here. Thanks to the Musicmaker staff for the answers to my questions that I had. And a special thanks to Matt who was my main go to guy. I think the next kit will be a Shepherd's Harp, I think I may be ready!

See you all soon.

Robert
---
Thank you all at Musicmakers for your great business! For the last year now, I have had my eye on some of your kits and finally ordered up on a snowy Monday. It's the weekend and I already have my order. I truly did not expect that fast of service. I look forward to how nicely I know the instruments will go together because of the quality of materials, craftsmanship, and video instructions that you make available.
Shannon
---
Ordered a tapered reamer from you a while back and it continues to serve me well. also recently ordered some more zither pins and tuning keys. here are some photos of a bass rebec, a pocket fiddle for the two of which the reamer came in handy and my second walking stick fiddle where some of the zither pins went. should be ordering again before too long.
Glenn
---
I am a hobby harp and zither builder, I learned about Music Makers from Robinson's Harps who I had been buying strings and hardware for an experemental zither project. I was just fumbling around in the dark hoping I would come up with something that worked! Music Makers turned on the lights, and provided me with all the resources and info I needed. I have bought a few of their kits over the past couple of years, and learnt a lot from building them. Their instruction books that come with the kits and plans are easy to understand, and I have built a number of nice sounding instruments. I tell everyone about them and pass on my old catalogues to interested parties. They are a great bunch of people, very helpful and friendly and knowlegable. For anyone new to building instruments, or old hands alike, they are a great company to know about and to do business with. I look forward to many years ahead of being their customer and buying their kits and plans.

John
---
For many years, now, I have made use of many of the kits and parts available from Musicmakers. I've built many stringed instruments including a harp for friends and as gifts. The materials are always of top quality and the kit instructions are clear and easy to follow. I don't play stringed instruments, only build them, (I'm more of a wind instrument person), but the mountain dulcimer so intrigued me that my wife and I took lessons and learned to play on instruments I built from your kits. What a joy to build and play! Now that I'm retired, I plan on building and learning to play more of what you offer.
Thanks.
Bill
---
I have been more than pleased with the material and support I have received form music makers over the years. When I called I was given good information from Jerry on how do a certain task. Another time when I ordered some screws that were not listed on the website or in the catalog but I knew music makers probably used on their instruments, they made a part number and sold me some of theirs! You can't beat support and service like that.
Thanks!
Mel
---
Matt,
I have been very happy with the kits purchased from you and your service has been great also! I will do more business with you as I can.
Thanks!
Chris
---
Hello Musicmakers,
The friend who got the cigar-box ukulele kit for Christmas is delighted with it. All tbe parts were there and the instructions are easy to follow. I was impressed by the quick delivery this time of year.
Happy New Year,
Fred Haeseker
---
Hi guys,
My first connection with you was for a fairly small order....but the "personalized, courteous" service was most impressive....will definitely consider doing more business with you and would recommend your company.
Thanks,
Marlene
---
Thanks Matt!
I am still putting my kit together. I am trying to go slow since this is my winter project but I am having so much fun it will be done way before winter is....ugh. So far I don't have any questions because the directions are so good. I am impressed with the directions actually because we have had other projects (like putting a kayak together from a kit) and those directions were really bad.
I will post a picture on your FB page when I get a little closer to the finished product.
I appreciate your company's interest in my success.
:-)
Jen
---

I can't tell you how happy I am that I discovered Musicmaker's. I was looking for something different to build and when I discovered your web site I knew I had found my new hobby. Everything I have ordered has arrived in a timely manner and it has all been in excellent condition. The plans I have gotten are easy to follow and well drawn. The kits have been very high quality and the assembly instructions very easy to follow. Even if I didn't have any woodworking experience I don't think I'd have any problems putting your kits together. My Reverie Harp turned out nicely. I ordered a Strumbly kit but am saving that for later. I am currently scratch building a Hognose Psaltry and a Mini Hammered Dulcimer with your plans and hardware kits. I am saving up to buy the big Hammered Dulcimer kit. Seriously I can't imagine anyone not being able to assemble one of your kits. It's enjoyable and satisfying and the finished product is amazing. I know that soon I will have to stop building and start learning how to play these instruments but right now I am enjoying the building to much to stop. I will be taking some time off at Christmas and will slow down then and start learning to play. Thanks so much for all you guys do up there.
John Likens
Pensacola, FL
---
Matt,
Have always been please doing business with you folks. Plan to do more as my finances allow.
Keep up your great customer service.
Ben
---
Hi Musicmaker Team,

I am very impressed with the promptness you displayed in fulfilling my order. As I live in Australia, I did not expect the order to arrive so quickly. Well done.

Regards
John Mahoney
---
Dear friends,

I am very satisfied with my purchase from you. The rosette is perfectly suited to my instrument : can not do better! The color is also in exact harmony with my Irish bouzouki.

Again thank you!

Best regards from France.
Patrick
---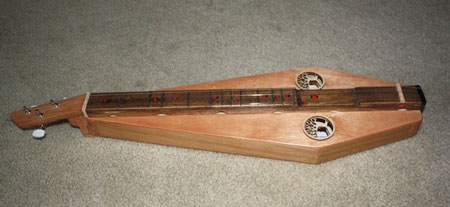 I had to show this to you. It is a modest mountain dulcimer that I made for my sister. We are aslways exchanging project pictures via email, since she lives in Washington state, and I live in California. Well, on a recent visit, she brought a beautiful book she made, since she is very talented. I oohed and ahhed and asked her to make one for me. Then I showed her a dulcimer that I managed to make. When I played it she said, "Hey that's the music they played on Lewis and Clark" She meant Ken Burns documentary on the Lewis and Clark Expedition. I stopped playing the dulcimer, and she said to me, "Oh don't stop. It's so nice and peaceful." So I handed it to her, and showed her how to strum it. I got it back quite a while later, with a request for one of her own. So off we went. She made a beautiful book for me, and I made her the dulcimer. I wanted to spiff it up in a special way, so I thought of you guys, and the rosettes. I sent pictures of them to her and let her choose which one she wanted. She picked the tree. I have to thank you for sending the rosettes so promptly. No matter how small the order is, you always send it to me promptly and with a big '"thank you" on the order form. So, thank you! Your lovely rosettes really made my modest effort at dulcimer building special. My sis will love it. Thanks again. (I'm playing the strings off of my Strumbly, too).

Thanks,
Sue Macias
---
Matt,

Thanks, and I would like to offer my acknowledgment of the excellent service and help offered to me during my recent purchase. The items were not available to me here in Australia and it was great that I was able to source them through Musicmakers. The transaction was flawless with delivery made to my home in the North of Queensland a mere 10days following the order. The whole of the experience was relaxed and seamless, from finding the items on the web page to filling my basket and the making the payment. A great job all round. I will gladly recommend Musicmakers to my friends and family.

Kind regards,
Geoff Murphy
---
Hi Matt

Thank you for the Hurdy Gurdy plans and parts I recently purchased. They arrived safely and promptly. Needless to say I'm busy on the project at the moment.

May I take this opportunity to thank Musicmakers for their quality of service and assistance with my instrument-making endeavours over the past couple of years. Without exception I have found the project plans and instructions precise and easy to follow, making the projects interesting and enjoyable to construct. They have provided a great sense of satisfaction on their completion and many hours of enjoyment as family members learn to play the instruments.

Thanks again to you and the Team for your friendly and helpful service and support.

Peter Leahy
Country NSW, Australia
---
Love you guys over at Musicmaker's Kits. Im a scratch builder and have been a customer for years. Just got the Hurdy-Gurdy plan and can't wait to get out and make some sawdust. Keep up the good work.
Barry Hoeschen
San Diego, CA
---
Always quick, prompt service and even answered questions to my emails. Purchased a Reverie Harp and the patients just love it at the cancer hospital where I'm an Artist-in-Residence.
Barbara Murak
---
Matt, I am not a Facebook user, but I will be happy to write a short testimonial ......

I have purchased several items recently for building bowed psalteries, including zither pins, bow hair, music wire and tuning wrenches. The items are exactly as advertised, are reasonably priced and were delivered within a couple of days after placing my on-line order.
Thanks,
Ivor Walton
---
Hi. Your service and help has been excellant I'm currently building a mountain dulcimer using your blueprints and everything is working great. When I'm finished I may do a Dakota uke kit. Keep up the good work!
---
Dear Matt,
I'm more than happy to provide a testimonial to the outstanding service and courtesy I have always enjoyed from Music Makers. The kits are excellent, advice when needed is always immediate and thoughtful, and I have always received orders without delay. As an amateur designer and beginner/intermediate harpist these are all very important to me. In addition to the instruments themselves, Music Makers has a wonderful Library section freely available to all, and as archivist for the Folk Harp Journal, Jerry Brown makes back issues available at minimal cost - an invaluable service.
I may be biased (and probably am), but I rather strongly believe that beginning harpists should understand some design and string theory as an integral part of their training. Jerry's manual Folk Harp Design and Construction should be in every harpist's collection. And the free Excel string analysis spreadsheet that is also in the Library should in my opinion be used by every student to analyze and understand their own instrument, whatever model or maker it might be.
We are often asked on the Virtual Harp Circle beginner's group "What harp would you suggest for me?" As an owner and moderator there one or more of the Music Maker's models is almost always among those I suggest.
Best wishes,
Biagio Sancetta
---
Thanks again for quick shipment and wonderful customer support.
Your company, staff, and products are the best!
Sincerely,
Peggy Coats
(new kantele owner)
---
Hi Matt,

Yes, so far so good with the harp! It arrived in excellent time and un damaged. It was also great to have such prompt and courteous email correspondence.
Unfortunately due to my work commitments I'm not able to assemble the harp until the end of march!, but I can't wait to start the project and will definitely let you know how it turns out then.
Thanks,
Peter
---
Thanks so much for your speedy response, great customer service, and a beautiful instrument! Please especially thank Cody for selecting such a lovely kantele for me.
Peg
---
Friends,
Friday, we received the book and CD that Matt sent. That was fast. Somebody was on their toes in processing our order, even over the Christmas holidays. Both were exactly what we wanted - we are very pleased. We also appreciate the almost "family like" friendly treatment that we received. Thank you so much.
Mark Barbee
---
Thanks Matt for your continued thoughtfulness and appreciation of my business. I have had many questions regarding my purchases at Musicmakers and you and your staff have done a great job answering them. As soon as I have had enough prctice with my Strumbly, I will post something that might inspire someone.
Thanks again,
Jim
---
I have always appreciated you folks. You listen and you do your best to help out the customer. Keeps me coming back. I know I'm a small time customer, but you make me feel that I'm important. I appreciate that!
Happy Thanksgiving, Merry Christmas and a Happy New Year.
Hope to do more business with you in the New Year ahead!
Ben
---
Dear Matt .... and all the great people at Music Makers.
Thank you for your email. I would be more than happy to offer not only the greatest POSITIVE feedback ,but also the greatest GRATITUDE for your outstanding,friendly,personable,and professional approach to doing business. I look forward to further contact...
Kind Regards...Many Thanks and Best Wishes....
Greg Sweeney ......
Adelaide,South AUSTRALIA.
---
I absolutely love the whole experience that I've had with you guys!
Warm Blessing,
Gail
---
You folks are awesome! I'll be a life-long customer and am impressed with the quality of your musical instruments and the customer attentiveness.
Thanks, again.
Harry Finley Jr.
---
Musicmakers is a great source for any string instrument builder. I get all my parts from them for my DIY experimental instruments. They offer a larger selection of hard to find parts and kits at very reasonable prices
Laserr20
YouTube
---
Would like to say thanks. Our order was handled very well and very quickly. Received items in good condition. We will be doing more business with you.
---
I'm honestly torn- part of me wants to tell everyone about Musicmakers, and part of me wants to keep my best sources all to myself.

In all seriousness, thank you so much- I've just started building medieval Celtic and Viking instruments (woodworker for 10 years, musician for 25), and everything I've gotten from you has been exactly what I needed, at pretty much the lowest price I've seen without buying by the case. Thank you for filling my small orders, and thank you for doing it quickly every time.
-Mike Dolan
---
I have done business with you for many years-even before you moved and because of your great service I am still with you. You are what we in the trade call an excellent vendor
- Charlie
---
Hi Matt and crew at Musicmakers'
You guys are the best. I am an amateur woodworker and I have gained so much knowledge about instrument building from your kits and the information you so freely share.
I love your products. They are reasonably priced and you make every effort to make people comfortable in trying something new.
Your staff is friendly, approachable and very knowledgeable. I don't ever feel intimidated about asking a "stupid" question. You guys are also the place to go for musical supplies.
Thanks for much for all the enjoyment you have given me over the years of instrument making.
- David Devine