Testimonial: Kantele
Hello.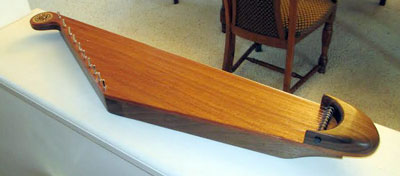 I thought you might want to see the kantele kit in its Finnished form (yeah, I HAD to go there). Very enjoyable build and the strings settled in very quickly.

Of course, I never build anything 'stock'. It's a habit I developed building radio control planes for the past 50 years. So, I modified it by putting 4 self-stick feet on the bottom. This raises it up about 1/8 inch and also makes it non-skid. It greatly enhances the tone when played on a tabletop.

My next step? Well, I also play guitar, so I'm fixing to get a piezo pickup to try it with my Marshall amp on both its clean and crunchy channels. Heavy metal kantele? Yup, it's coming.

By the way, have you guys and gals thought about a lap steel guitar kit? You seem to have access to some amazing woods and I'm sure it would look cool.

Thanks for your time.

Chris Hushak
Virginia
---
Matt,

Thanks again - the kantele is finally built! Here's a blog about it: http://andrewcferguson.com/2015/02/22/seeing-it-to-the-finnish-how-i-built-the-kantele/

Cheers

Andrew
---
Dear Matt,
It was pleasure corresponding with you. You were very helpful kind patient and generous and the Kantele is just beautiful both to look at and to play.
I have been looking for an instrument for quite a while and this one fit the bill perfectly. I was so drawn to the sound and then to the simplicity of plucking and strumming in my lap. Harps were too awkward for me with size and my deteriorating depth perception. Autoharps required learning and made too big a sound. This simple zither plays my favorite singing range and will support me in "Threshold Singers" - our local hospice bedside music ministry. Only 2 or 3 of us go to a bedside and only simple meditative melodies and harmonies are used. With practice I think I will be able to attend a bedside solo, supported by the Kantele. It is lovely and I look forward to engaging more with it.
Thank you again for making this beautiful instrument such a pleasure to buy and enjoy!
Jane McKenna
---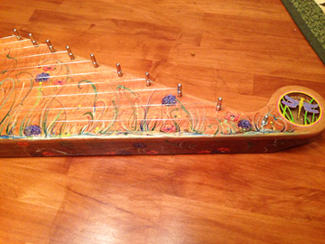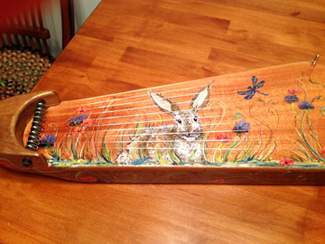 Hi Guys

The kantele is done. It is gorgeous and sounds great.. And thanks, Matt, for the videos! I was scared about hammering in the pins so hard..
Love, Light and Harmony,
Lynda
---
Hello,
I wanted to let you all know how much I am enjoying the kantele! The sound is lovely and Otherworldly.
Thanks!
Shoshana
---
Just wanted to let you know I finished my Kantele Kit assembly this past Sunday and am very happy with the way it turned out. We had 2 warm, sunny days in a row and I was able to get outside and work on instruments. I had the Kantele inside with finish drying on it and I was outside cutting out parts for your Teardrop Mandolin. I am really excited about the Mandolin. I decided I needed something to really challenge me and the mandolin is doing that. The plans are well drawn and easy to understand. I received a fret board from you and got some wood in today for the ft & bk. Spruce and cedar. I laid out and cut out the neck from Maple and was amazed at how well it turned out. i have some salvaged mahogany I am using for the sides. So far everything is turning out very well and I am really enjoying myself. I am very grateful for Musicmaker's helping me to find a new hobby. I will send along some pictures soon.
Thanks to everyone at Musicmaker's.
John in NW Florida.
---
Hi Matt,
I want you to know that I am very pleased with the service you and the other staff members at Musicmaker's have provided to me. I bought my 10-string kantele complete but I have made another kantele for myself - an 18 string and have bought all the strings, tuning pins, guide pins, and sharping levers from you. The videos on your website have helped me immensely in installing the pins, strings, etc.
Thanks so much for all of your help.
Constance Makela
---
Sanded up a lot of wood dust. Rubbed on some oil and bees wax. Plays like a dream.
Kevin Harris

---
Dear Musicmaker's.
I am VERY pleased with my purchase of my kantele! The caftsmanship is supurb and the sound is so so beautiful. Actually when I play it people tell me its "enchating". Its an easy instrument to learn and worth every penny I spent on it. I just wish I had found your company years ago when I first got into playing music. Also, your staff I found very friendly and knowlegable over the phone in helping me in choising the right instrument for me. I just love my kantele, and I can't keep from playing it! Thank you so much for everything!
-Aaron
---
Matt,

Thanks for asking. It's been a pleasure dealing with your company.

Last month I did purchase your Kantele kit and that went together very nicely. I'm 100% Finnish and I've been trying to plunk out old Finnish folk songs my mother used to sing. It sounds beautiful. I plan to build a few of these for Christmas gifts this year and order all my supplies from you. Everybody in my family has a masters degree in music except me. These musical gifts have really been a hit. I built cajons for them three years ago.

My wife wants me to build your suit case bass next. I think I might order your plans next Fall for that.

We've watched your little video of you demonstrating how to play the Kantele many times. My wife is trying to teach me how to play that little song that you do. (I'm a much better woodworker than a musician!)

Thanks for the great service.

Bill Erickson
DeWitt, MI
---
Hi there,
A while ago i purchased a Kantele kit from your shop, which I now have finished. I thought it might be nice to send you a link to the first Kantele video I made.
Thank you for a perfect kit!

Sincerely,
Patrick de Bruin
---
Hi Matt,

Thanks your support, advice and expertise in helping punch up my kantele kit from Music Makers. This is my first woodworking project since Jr. High and your great instruction and videos made it a great project. Looking forward to a couple others.

James Bartee