Testimonial: Lyres
I was very pleased with the Old World lyre kit. It was put together as a joint effort between myself and a high school senior who was doing it as his Senior Project. He learned many woodworking techniques and now is the proud owner of a beautiful musical instrument.
Ben Pastrick
Georgia
---
Matt:
I just wanted to say thank you for a wonderful instrument. I am extremely pleased by both the Old World Lyre and the Gig Bag. They are exactly what I was looking for. I enjoy playing this lyre so much that I am always thinking of songs that I can play upon it. I probably spend more time playing than I should, but hey it is both soothing to listen to and very melodic if you just strum. A big thank you to everyone in your business for making this a pleasant purchase experience.
Your Customer,
Howard
---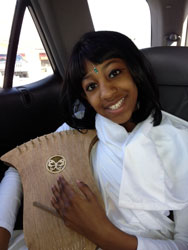 I purchased a Lyre Kit for my daugher last month for her 'Egyptian Day' project at school. She was VERY happy to complete this project with her Dad, and both her teacher and her classmates were very impressed with the project. I was very happy with this purchase.

Thank you,
Serina
---
Hi Matt and everyone at Musicmakers!
I am very happy with my Lil' Lyre and Old World Lyre! The quality of materials and workmanship on these lyres is fantastic. I do music programs with children and parents are involved in some of the programs. Everyone has really enjoyed both instruments.
It is also nice to come home after a busy day and pick up the lyre and unwind by playing some relaxing music.
Thanks for building such wonderful instruments. I am saving up to purchase some more instruments in the new year. I also am planning on purchasing a kit or two and build some of the easier instruments. Who knows, I might one day build my very own harp-that would be a wonderful achievement!
Thanks again-happy holidays!
Peg
---
Dear Folks:
I am half way through assembling the Old World Lyre kit and have found it a joy so far. The design is solid and the components are of high quality. I appreciate the vaccuum pack of the sound board and back piece to prevent cracking...that is a nice touch.
I should be done with it in a few weeks (it is a Christmas present for my wife)...I'll send a photo when it is finished.
Best,
Myron Able
---
I'd love to play my Little Lyre, but I can't get it away from my grandson. It was our Thanksgiving table center piece this year. We passed it around the table and each family member gave it a strum and told what they were thankful for. Thanks for a fun little kit.

Ron Moucka
Ft Collins, CO