Testimonials: Regency Harps

Hi Jerry and all at Musicmakers,

I had my first lesson with my new harp on Friday, and we had a blast! I recorded a few tunes with my harp teacher, Tammy, playing (for "inspiration!). She went over it with a fine-tooth comb, and was really impressed with the beauty and the big sound! She is a good spirit, and she's so happy for me. She says this harp will open new doors for me....I can see that already. It is such fun to play.....now if only I could stay home from work to play all day! Alas....!
Thanks again for the beautiful work you all do! There's nothing much better than making beautiful music.
Joni
---
Thank you for my beautiful harp. My Regency is now 10 1/2 years old and sounding as wonderful as ever. I play at my church a lot and continually get compliments as to the sound. Your service is likewise very good. Keep up the good work.

Blessings...Ann Licano
---
Dear Jerry et al,
I thought you might like to see pictures of my Regency Harp, just completed and strung. I decided to decorate the soundboard and the pillar with gold leaf, and while it was time consuming I feel it was worth the effort.
Sonically the instrument is more satisfying than I imagined, though until it has 35 more tunings, I suspect that it will be a little while before its final voice is revealed.
Thanks for producing such a wonderful design, I look forward to many satisfying hours with La Folia.
Chalres Markis
Queens, NY
---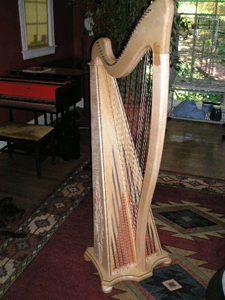 Hello Jerry and Matt,
I have built the following from kits over the last 20 years:
2 double manual harpsichords (Hubbard)
4 single manual harpsichords (Hubbard)
2 mandolins (scratch, from plans)
1 guitar (scratch, from plans)
1 G/C hurdy-gurdy (Hurdy Gurdy Crafters)
Currently building a tenor 8-string D/G hurdy-gurdy
Your Regency harp kit is well thought out, parts expertly cut. Lovely sounding instrument. And looks and sounds great with my current harpsichord.
Some pictures here, to include my custom additions:
http://www.dragonflybridge.com/RegencyHarp/
Jon Steel
Oakland, CA
---
Hi Jerry,
My husband built my walnut Regency for me for Christmas. In February 2001 we had Louise Trotter here in southwest Florida for a workshop for the Palm Coast Chapter of the American Harp Society, and she was borrowing harps for her concert the next day. Out of all the lever harps present, she chose my 2-week-old Regency! She liked the sound, tone, and the movement of the levers. Thanks for a wonderful kit, great instructions, and a wonderful harp. I'm sure I could not be happier or more proud if I had an expensive, professionally built harp.
Sincerely,
Kim Adamson
Marco Island, FL
---
I purchased a completed maple Regency harp about a year and a half ago. I already had three other harps - very good, popular harps. I had gone to many harp festivals and stores, and had heard many harp brands, and I thought the harps I owned at the time were the best-sounding harps available. Then, my husband and I went on vacation to Minneapolis. We took a side trip to Stillwater, and happened to notice an ad for your store in a Stillwater tourism brochure. We went to your store just for fun, with no thought of buying a harp (I thought I already had the best after all!!)
I started playing the Maple Regency harp in your display area, and fell in love after only two notes. I sat down and played for about a half hour, and was so amazed by the sound, I just had to buy the harp on the spot.
I hadn't planned to buy a harp, and really had no way to get it home, but I was so in love, I just had to get it. Luckily, we were able to squeeze it into the car. My poor husband was cramped in the corner of the back seat all the way home. (He loves the harp too; he says it was worth it!) It was a difficult eight-hour trip, but I've never regretted it.
Besides being the best sounding harp I've ever heard, by far, it's also a work of art. The wood on the harp is gorgeous. It's also been extremely reliable. We keep our music room at a fairly constant humidity and temperature, but I'm always replacing strings on my other harps. I have yet to replace a single string on my Regency. It also stays in tune very, very well; I had to tune my other harps a couple of times a week, but only have to tune the Regency about once or twice a month.
Overall, it's a really amazing harp.
Cheryl Jones
Richfield, Wisconsin
---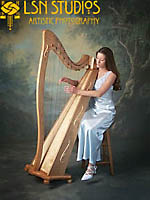 Janis Downing was so impressed with the Regency harp her dad built from our blueprint that she had some of her senior pictures taken with it. We're impressed too!
---
I've just finished stringing and levering my first Regency--it's a big hit. It has a grand appearance and the sound is tremendous. I wouldn't have thought a harp could have sounded much better than the 36 string Gothic, but the Regency is significantly better. And it's so much easier to make the parts and construct. In every way you did a fabulous job at designing this one. Thanks so much for all your sweat. Every string has a rich, clear ring with impressive sustain. I haven't heard a better sounding harp anywhere, nor seen a nicer design.
-Alex Marini