Testimonial: Strumbly
Hi,
I built the Strumbly 3-string folk guitar from the supplied kit. Directions were wonderful and much helpful guidance on tuning. I was a novice and careful so it took me over a week, but it did come out very nice.
More important, it plays really well, a beautiful mellow sound, a little more timbre than most music sticks or strum sticks. I used Birchwood Casey Tru-Oil Gun Stock Finish which wipes on. You need to wait 24 hours then use 00 steel wool and another coat then wait another day and use 0000 steel wool - came out real smooth and matte like finish - and durable.
I did put a pickup with volume control in it - I made sure to encase the piezo disk in hot glue and hot glued the wiring down so it would not mess up any vibrations. The pickup works great, I could play clean or with a little over drive from a cheap $20 amp, I want to get a better amp to try it with. The pickup was below the bridge up near the thick string on the inside of the guitar.
I tuned it to DAD instead of DGD and I like that better. It is just a great little instrument at a super price for the kit. I did break one string (the thick one) during the build, not sure why; I was glad a bought an extra set and the next try it was fine.
I adjusted the bridge per instructions and ensured the open note on each string was exactly one octave below the 8th fret for that string. The tuners are very nice and it was easy to cut the notches in the nut and bridge for the strings - same as the bridge. I did not have to adjust the height of the bridge as the strings were exactly 1/8" above the 8th fret. I would recommend this instrument kit very highly.

Thanks,
Ralph Ross
North Carolina

PS: I'm 65 and retired, and I want to get into music a bit. The 3-string instruments with the diatonic scale are perfect for me and many others who just want to have some fun.

PSS: Sorry to be long winded, but I bought a second Strumbly kit to build for my uncle who is 88.
---
Ah. Well then, use this as a testimonial and a good tip for future kit builders. The kit was extremely simple and easy to follow instructions. It went together well and the finished product is everything I expected. For future builders, my one tip is patience. Take your time putting this together. It can be done in a few hours, but if you take your time, the results are much better. Enjoy the music you'll soon be making.
Chuck McNamee
---
Hey Musicmakers

I thourghly enjoyed putting my Strumbly together. The directions and assembly was easy to follow. I plan on ordering some of your other kits for gifts for friends or family if I don't keep them for myself. But for now I'm having fun strumming my Strumbly.

Thanks for making great kits for fun hobby projects.

Bryan Martin
---
Hi Matt,
I couldn't be more pleased with my Strumbly! It is beautifully made and sounds wonderful! I am having a blast with it and would recommend it to anyone. I purchased the large book and find it easy to use with a nice variety of songs. If you ever expand your line of books, I would be very interested in more hymns as they play beautifully on the Strumbly. Thanks again for the great service and beautiful instrument!

Sincerely,
Rebecca in TN.
---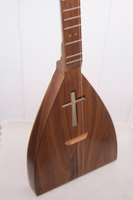 Musicmakers,

This is my custom version of the Strumbly which I built around a fretboard and hardware purchased from Musicmakers. Because it is made of walnut and has a cross-shaped sound hole, I call it "St. Strumbly." (Some think "Tombstone on a Stick" is more descriptive)! One can almost envision a medieval monk strumming on this thing in the garden while preparing for evening prayer!

The soundbox is slightly wider than the Strumbly's I built from your kit. Because the bottom end is flat, it will stand on end somewhat precariously.I placed the strings in the same sequence as a mountain dulcimer, melody string on the top with drones below. This enables me to also use music written for dulcimer. It sounds great!

Thanks for your help. My next project will be a Teardrop Mandolin made using your plans and parts. (Keeps a 73-year old guy out of trouble)!

Bruce Camlin
Ocala, FL/Greenville, PA
---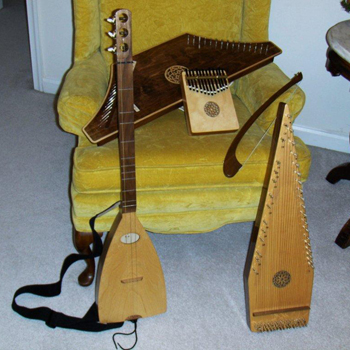 Matt:
Attached is a photo of the music instruments I have made including the Strumbly I just completed. Not only have I enjoyed building the kits, which was the original intent, but it has stirred me to learn to play each one of them. As I have said in previous e-mails, I have always wanted to play a music instrument, but was never able to do so until I built your instrument kits. As a youngster I bombed out at piano and trumpet and my mother was so disappointed. The Strumbly is everything you billed it to be. Easy to learn to play and just lots of fun. As with the psalteries, I find it just perfect for playing church hymns and gospel music . I spend hours at a time playing my way through the song books and find it very relaxing. Thanks for all you have done to help me with these projects. You and your staff do a great job.
George Talley
---
Hey Guys!

I just un-boxed my strumbly and finished playing several songs, chords and all. This is especially remarkable, because as a string player, I'm a pretty fair trumpeter. The strumbly is great, and I can now accompany my music students on all the folk songs we sing in class. Thanks a million!

-Paul Nelson
Music Teacher
---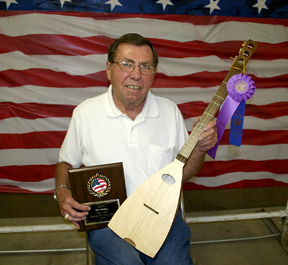 Matt
Got "Best Of Show" and a Blue Ribbon At the Tri County Fair in Mendota, Ill. for My Strumbly. The Fair was held for five days up to Labor Day. The Best of Show Plaque and the Strumby were pictured in the Mendota Reporter newspaper. The enclosed picture was taken by the paper and appeared in last Thursdays paper. Had a lot of fun building it, with only a few tense moments. Frets are fretful. The reporter wants to know "what's next"
Jerry Whitmore
---
I will say that I have not had so much fun, nor gained so much pleasure from any instrumant than I have from my Strumbly.
Cheers,
Anne Maguire
---
Wow, What a great instrument! Easy to build, with a minimum of tools and easy to play and surprisingly good sound. I love the Strumbly so much, I'm buying another one. Shortly after building my first Strumbly I showed it to my friend who is a musician. He instantly fell in love with it and insisted that I sell it to him... so I did.
I've tried to learn how to play many instruments - harmonica, banjo, bones, but the Strumbly is the only instrument I have successfully learned to play - literally in 10 minutes.
This next one I'm going to customize and keep for myself.
Thanks guys, and keep up the good work.
Jim Harrison
---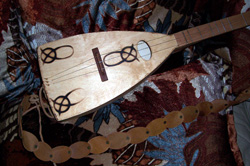 Hi Matt,
Here is Ken's Strumbly. He wanted it to look ancient, so the finish on the soundboard looks rustic and "woodsy," the sides are darkened with walnut stain, he lacquered the whole thing w/ golden pecan stain, and the symbol on the front is burned in. This is the symbol of our retreat center, Sakin'el.
Thanks!
Ken Muller and Cynthia Andresen