Testimonial: Thumb Piano
I ordered the thumb piano kit for my husband for Christmas and he loves it! Beautiful pieces and clear instructions. Great product!
Carrie McNair
Florida
---
Hello Matt!
I am absolutely loving the thumb piano kit. Years ago, in 2007, I purchased the Voyageur harp kit for my high school senior project and I missed the instrument building experience in college. To get back into the swing of things, I'm making this thumb piano for a friend and am refining my pyrography to lightly burn some celtic knots into the beautiful cherry soundboard.
Thank you for making such wonderful instrument kids! I am totally enjoying the process.
Sincerely,
Matthew J. Sarb
---
Matt,

Thanks for asking. It's been a pleasure dealing with your company.

For Christmas last year I built seven Kalimbas to give as gifts. It was fun around here on Christmas morning. My 25 year old son really took to it. Here's a Youtube link of him playing his adaptation of Pachelbel's Canon in D.

I didn't actually order your kit or a finished Kalimba but just figured out how to build them by looking at pictures, mostly from your catalog and web site. I did, however, purchase the prong material from you.

Last month I did purchase your Kantele kit and that went together very nicely. I'm 100% Finnish and I've been trying to plunk out old Finnish folk songs my mother used to sing. It sounds beautiful. I plan to build a few of these for Christmas gifts this year and order all my supplies from you. Everybody in my family has a masters degree in music except me. These musical gifts have really been a hit. I built cajons for them three years ago.

My wife wants me to build your suit case bass next. I think I might order your plans next Fall for that.

We've watched your little video of you demonstrating how to play the Kontele many times. My wife is trying to teach me how to play that little song that you do. (I'm a much better woodworker than a musician!)

Thanks for the great service.

Bill Erickson
DeWitt, MI
---
Dear Matt-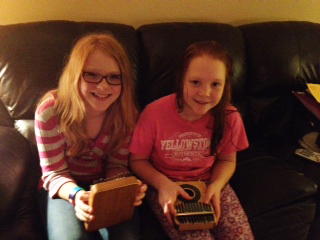 The Mbira / Thumb Pianos are a HUGE hit at our house! Our family loves playing music together. The girls have figured out "Heart and Soul" to play together :)  Their piano lessons have taught them to use their ears to try to figure out different songs / melodies. We love the beautiful instruments we purchased from Music Makers! We will definitely encourage friends to check out your website. :)

Have a great start to your week!
Sincerely,
Krista Sonstegard
---
>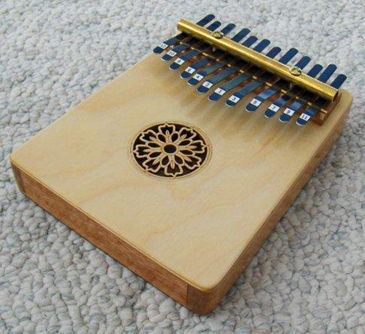 I completed the thumb piano and it will make for some fun when the grandchildren visit. I had a little trouble tuning the two outside notes until I loosened the screws on the clamping rod just slightly. Having the screws too tight caused a plunking sound. Actually we are pleased with the results and it will make a great conservation piece.

I also have made the bowed and hog nosed psalteries and we really enjoy playing church hymns on them. For the future, I am considering making the Strumbly, but being not very musically talented I have concerns about learning to play it.

I enjoy making your kits.

George Talley
Williamsburg, VA