Psalmodikon KIT
psalmkit
$110.00
Product Details
---
Info
This is quite an easy kit to assemble. It makes for about an 8-12 hour project and can be done with minimal tools. The most difficult step is sanding the frets flush with the fingerboard. You'll want to have access to a belt sander for that. You can download the assembly instructions or check out the assembly videos to get a good feel for the scope of the project. And don't forget - we offer the best warranty in the business.
We also offer the psalmodikon In-the-White or Finished

Download Assembly Instructions (PDF)
Assembly Videos
Psalmodikon Assembly Videos
Check out these videos if you want to see what it is like to build the Psalmodikon from a kit.
Testimonials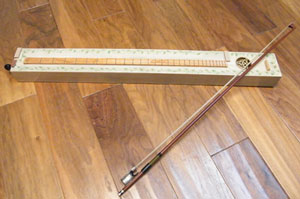 I received the kit for the psalmodikon instrument. It was very easy to assemble. I decided to driftwood stain, decorative paint and hand scribe the numbers to give is a rustic homemade look. It was easy to tune. I need to practice playing it to get coordinated and it does sound great. Thanks for providing the kit and interesting history for this instrument.
Bev in Texas
---
Just wanted to say that I've been working on and off on the kit for 6 days now and am up to step # 8. This is a good kit, ideal for someone new at this. The instructions are very good as always with MusicMakers. The materials are of very good quality for a low cost kit. I hope they sell well.
Keep up the good work!
Philip