Explore several different ways to play your Strumbly
---
One of the reasons Strumbly is so successful is because it can be as easy as you want. Described below are five differnent ways that you can play Strumbly along with a short video that demonstrates each method.
The standard tuning used in the beginner songbook is DGD which plays in the Key of G.
Method 1 - Just the Melody
Using the songs in the beginner songbook you can literally start playing immediately. You don't even need to tune Strumbly. Just follow the numbers and make sure you only play one string.
---
Method 2 - Playing all the Strings
This isn't really much different than method one except that you have tuned all the strings. (Click here for help on tuning Strumbly.) When all the strings are in tune you can strum all the strings as you play the melody. This adds richness and depth, making you sound like you are doing a lot more than you are.
---
Method 3 - Playing Duets
Making music is fun but making music with others is a true delight. All of the printed songs for Strumbly include chord names that make it easy to play with other musicians.
---
Method 4 - Playing and Singing
You will find some simple chords in the songbooks. When you are ready you can learn how to play chords. Using either songbook you can strum the chords as you sing the lyrics.
---
Method 5 - Branching Out
---
Method 6 - Play with the Band
Ever wanted to play in a band? Well now you can! Here are a few tracks featuring The Strum-Tones. All the songs are from the beginning songbook included with every Strumbly.
Each song is played through 3 times. The first time through you will hear a Strumbly playing the melody to help you get the feel of the song. The next 2 times through YOU take the lead and play the melody!
Home on the Range</strong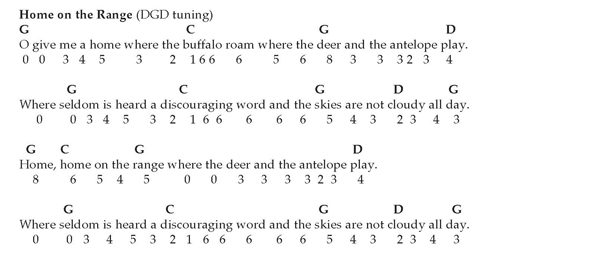 ---
You Are My Sunshine
---
---