Info
Full size blueprints and complete assembly instructions for our 17/16 Hammered Dulcimer. Detailed prints show you how to build every part needed to build this instrument. Once you have cut out all the parts, use the assembly instructions to put all the pieces together.
Bill of Materials (PDF)
Would you like to add a damper system to your instrument? Click here for some guidance on how to do this from one of our customers.
Testimonials
I thought I would just let you know that I finished my 17/16 hammer dulcimer about a week ago. It took me about a month to build it. The plans I ordered from you were professional, precise and remarkably easy to understand. I used western cedar for the soundboard and baltic birch for the back. I used maple for the bridges and 1/4" oak veneer on the sides, front and back. The tuning took a little time but the end results is a very pleasant sounding heirloom instrument that my daughters and grandchildren will enjoy for many years to come. Thank you very much for these plans and the support you have provided.
---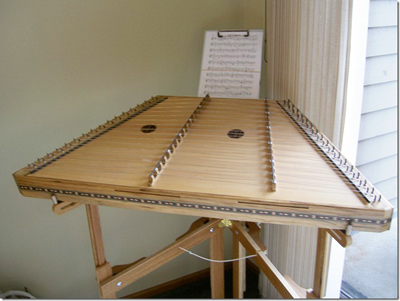 I had spoken to somebody at Musicmakers about our project and how much we appreciated the detailed plans for both the adjustable stand and the 17/16 hammered dulcimer.
Your directions were the best that we have ever used for a project and my husband is a shipwright as well as a master cabinet-maker and furniture builder. He followed them right to the letter and as we discussed in an earlier e-mail found them to be dead on accurate. The resultant tone is beautiful.
Jean and Garrett Mulder
Very Nice!
Terry Jones
10/21/2019
Verified Buyer
I bought the plans and hardware kit and everything was there that I needed to build my own with lumber that I purchased myself. As result the dulcimer came out perfectly!
4 of 4 customers found this helpful.
Excellent Plans
Curtis Warstler
07/25/2019
Verified Buyer
These plan's are very well laid out and thought out. Look forward to my building experience.
4 of 4 customers found this helpful.
Very helpful
Oai
01/07/2019
Verified Buyer
Thank you for prompt delivery of my recent order. It has been almost 2 weeks working on building my 1st hammered dulcimer from scratch. It is now 95% complete with just some minor adjustments. The sounds of this instrument is just beautiful... Your blueprint and assembly instruction are definitely helpful👍. Your part supplies is also convenient for building my instrument. I built a chromatic piano tuning dulcimer for ease of playing. Maybe will build a diatonic one in the future. Thank you for helping me making my dream instrument. Musically yours, Oai
3 of 3 customers found this helpful.
Excellent Plans
Gavin from British Columbia
10/29/2018
Verified Buyer
I would like to thank you for the plans and hardware for the hammered dulcimer I bought recently. I chickened out of building my own bridges, but otherwise built it myself and had a lot of fun doing so, and am pleased with the result. An excellent set of plans and instructions made it a pleasure to build. I've ordered the hardware to build the mini for my granddaughter, as well as the stand plans.
3 of 3 customers found this helpful.
knothead carver
Stephen Rothschild
07/15/2018
I made this instrument manb years ago, before they had a place to comment. It started me on my playing a ducimer and making more of them from scratch. A wonderful opportunity to play this amzining instrument. The plans were easy to follow and Igor the hardware at the same time I got the plans. You really can't go wrong.
6 of 6 customers found this helpful.
17/16 Hammered Dulcimer
Peter Smith
03/03/2018
Verified Buyer
I am totally impressed with my recent purchase of both the Hammered Dulcimer plans and hardware kit. The full scale plan will make templating my woodwork a breeze :D
5 of 5 customers found this helpful.