Mountain Banjo - 5 Strings
The Musicmakers Mountain Banjo is an elegant and simple banjo. It successfully combines the look and feel of a traditional home-built mountain banjo with some modern components.
It uses beautiful solid cherry for the neck and body. You. A rosewood fingerboard and figured walnut peghead veneer are also standard. We use a double action truss rod to ensure the neck is playable for the life of the instrument and planetary tuners to make tuning smooth and easy. The skin tension and neck angle are both fully adjustable. And the lack of external hardware on the body keeps the instrument light-weight (only 5 pounds!) Easy to build and a joy to play!
Steel Strings

Speed the Plough (aDADE)
Nylgut Strings (fretless)

Red Prairie Dawn (gDGBD)

Shop Mountain Banjo
---
Tenor Banjo - 4 Strings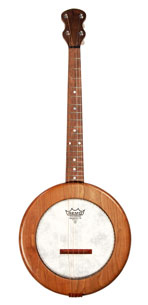 The Tenor Banjo is basically a shorter, 4-string version of our Mountain Banjo. It uses the same body made with the same quality hardwoods and hardware but the neck has been shortened and the bump for the 5th peg removed.
The Tenor Banjo is available in 3 different tunings.
Standard Tenor - CGDA (like a mandola)
Irish Tenor - GDAE (octave lower than a violin)
Chicago - DGBE (like a 4-string guitar)

Shop Tenor Banjo