Testimonials: Lap Harps

Leia's Harp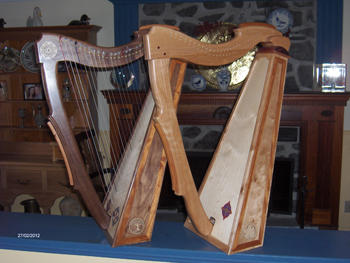 It has always been a personal woodworking goal of mine to build a musical instrument. This aspiration moved up a notch last year when a brand new baby granddaughter arrived on the scene. As she is paternally Irish, with the help of Google I launched a search for harp kits and came up with Musicmakers Kits of Stillwater, MN. The web site is very well done with all of the information needed to make a sound decision. From order to arrival it took no more than a week for the kit to arrive in the post.
All harp components from sides to neck and pillar were superbly fashioned with complete accuracy. The instructions included were very much like a correspondence course in harp-making with all of the steps clearly laid out, and an abundance of technical tips to enhance success.
All together I can only sing the many praises of the Limerick harp kit. I thoroughly enjoyed the entire building experience and without reservation will order other kits in the future. I am well and truly hooked on making musical instruments. As Leia is now only 10 months old, we will have to be somewhat patient for her to start her music lessons.
-Gary Dover
Click here to read Gary's entire letter wherein he desribes in detail the unique approach he took in building our kit.
---
Good day.

I just wanted to share with you some thoughts after completing the Limerick Harp kit that I purchased from you in December. From ordering to completion, this has been a fantastic experience. I was hesitant to order a kit, not being sure what I was getting into. I downloaded the instructions ahead of time and looked them over, and did not see anything that bothered me, but I still had reservations. I was a bit concerned about the quality and appearance of the wood, but decided finally to bite the bullet and order the kit. I got an email shortly after ordering, saying the cherry kits were out of stock, and gave me my options. I thought about it, and decided I could be happy with walnut version, so I emailed back to let you know. The next day, the kit arrived. I opened the box and checked out the wood, and I could not be happier. So far, so good!

I started the project right away, and it took exactly one month to complete. I was actually surprised how quickly it moved along. There was only one point where I wondered what I had gotten myself into and if I had just destroyed the whole thing (I had not...) Actually, it went very smoothly. Your instructions are excellent, and few problems cropped up. I kept a running photo journal on my facebook page, and my friends were quite taken with it as the project came along. Now, here is the kicker. I work in a band instrument repair shop in a music store in Madison. When it was done, I took the harp in to work, and everyone was just amazed. They knew I had been working on it, but did not know what to expect. They could not believe how nicely it turned out. The fun part of taking something like this into a music store is, everyone has to touch it and play it, and it attracted a lot of attention. Lots of questions. Your catalog got passed around a lot.

Each time I communicated with your staff they were pleasant and helpful and fun to work with, and did a great job of getting me exactly what I wanted. They definitely contributed to making this a great experience. I hope you realize what a great group of people you have there.

As for the harp itself, I absolutely love it! It sounds wonderful, top to bottom. No stray vibrations, no mystery sounds, evenly spaced strings, it is just a joy! I cannot get over how much fun it is to play (ok, I'm just learning to play, but you know what I mean) or how beautiful it sounds (and looks!) I am just delighted. It is getting played a LOT! Thank you for making this such a fun project, and making it so accessible. I am just so pleased that I decided to do this and that I worked with your company. Thank you!
---
Thought I would send this email pic. You gave me all of the info I needed to complete. It was great fun. Your website pictures of both harps was an inspiration, thought I would take this pic in front of my wifes garden. Hope to build another harp in the future.

Rick Robinson
Westfield, Indiana
---
I have made 5 of your harps over the years and a hognose psaltery. We are now making a Shepherd harp for my 12 year old grand-daughter. My recently purchased finished bowed psaltery is great. The kits have brought me much joy and satisfaction as well as appreciation from the people I play for at Deer Lodge hospital, nursing homes and church.

Thank you Musicmakers!


Linda Kane
---
Dear Jerry,

You can use the picture and message online. We'll be happy if it can help. I made the harp from the blueprints I bought at Musicmakers. The Sherpherd has two qualities very few 22-string instruments have : the elegance of the shape compared to models which often look massive and, above all the great sound. Most people were surprised when listening to the Sherperd harp which sounds like a bigger one : there is almost no difference with a 36-string harp. Bardic harps often look and sound like toys . So, congratulations for the design.


Best regards.
Jacques GUYOT
---
I have to say in defense of kits, at least your kits, and I have scratch built guitars, but went the kit route due to no teacher available in my area, Jerry... I had my new Limerick out last night to a pretty high end Irish session, where the people really knew their instruments and music in great depth, several professionals present who have heard it all. They were FLOORED by the sounds coming out of that Limerick. They thought it sounded better than any of my other harps and some other full size lever harps they had heard owned by others.
It shook the floor. I sent you a picture of it with the nice little floor stand I made with screw in legs, bringing it up to a nice playing height. People could feel it roll across the floor, and fill the room. I have the Low C strings on it, and the low end is nice and deep, the high end, though it took a few weeks and is still maturing, rings beautifully.
I am more than pleased with your Limerick kit thus far, I am astounded that it sounds so good. It may be a kit, but some people seem to think it's about on the level of getting a shelf from Walmart and having to put it together. It had its challenges all right, and as you know I had a few mishaps, so was glad to have had both you and your wonderful staff available for help, and also to have had some prior guitar building experience. I had a few other beginner's "whoopses" that I didn't even call about, but worked out myself. I now know a lot about what not to do at least, and feel I could fly through the next Limerick if I make another, though will try a different model next.
I can't imagine there was any compromise in sound due to it being a kit, and if there was any, I would most surely be overwhelmed if it could sound any better if scratch built. It is by far the best sounding 26 string harp I have ever heard, and it surely can hold its own next to any 34 or so string harp. If anything, I was playing too softly, so as not to overwhelm some of the other instruments, including a few fiddlers and a piper.
I just don't know enough to scratch build a harp, have no one to show me, so the kit building experience will be it for me at least for the time being, maybe work from the plans down the line a little. I don't intend to sell harps, just make them for my own use, and enjoy the process of building them, finishing them, and playing them. You're doing wonderful things! I'll be a repeat customer and have recommended the Limerick kit to a few people already.
Iris Nevins
---
Hello All,
I just wanted to let you folks know... Last weekend we were invited to a friend's for dinner along with a strange request: please bring the Limerick Harp. Well, turns out that our friend's daughter's harp teacher (lovely lady) was there with her 4 month old baby boy. Harpist Mom passed the baby to our friend and grabbed the harp. My eyes popped and Magda's jaw dropped at the sounds coming out of the Limerick. Harp Mom is the harpist for the city's Philharmonic and has been playing for thirty years; the show was impressive. When she was done playing came the questions: "where?", "how much?","YOU built it?" "it was a kit?", and so on. She didn't want to put it down, and pronounced it "sweet sounding." Guys, she was amazed by the sound, and "sweet" was meant as a significant compliment. The where, how much, etc... were more than polite nothings. I've always felt that this harp had a wonderful tone, but it sure is something to hear it from such a person.
Hats off to you all!
- Tim (who can't wait to hear what she'll say of the Voyageur when it's finished)
---
Hi Musicmakers Crew!

Just wanted to let you know how much I adore my Limerick wire-strung lap harp. Here is the link to a YouTube video of a little song I learned. I hope you enjoy it as much as I enjoyed learning it on the beautiful little harp.

Thanks again,

Karen
---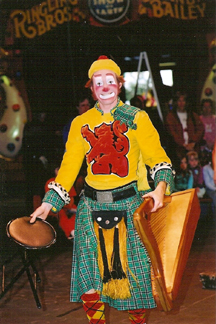 I built a Limerick from your kit in 1994. I have played it in a production of Don Quixote in Brazil, a teahouse and a radio station in Shanghai, China, and traditional music sessions in Glasgow, Scotland. I made my living playing this harp in Seattle's Pike Place Market in 2002 and 2003. I supported myself playing this harp (with some help from my gothic 36) going to clown school in San Francisco in 2004. In 2005-6, I took the Limerick harp on tour with the 135th edition of the Ringling Bros. and Barnum & Bailey Circus. I accompanied aerialist Lu Viera for her tissu act in the preshow for most of the tour. In 2007, I taught a harp workshop at Lark Camp, a traditional music camp in California, using the Limerick.
I currently live in New Orleans and play the Limerick harp in the Herringbone Orchestra. This summer (2008) I am going to be playing the harp for the Caravan Stage Company. This company tours and performs on a one-of-a-kind theater ship. The 2008 tour will be in Greece. In short, the Limerick harp has been one of the most useful things I have ever encountered.
Thank You!
Luke Brechtelsbauer
Luke Brechtelsbauer plays our Limerick Harp - Wow!!
---
First of all sorry for my English....I know it's not perfect but I'll try to explain it the best I can!!!!At first, I decided to use Heat Transfer to decorate soundboard, but here in Italy it was very difficult to find it and the patterns were unsightly. So I decorated soundboard with stencil because I wanted a floreal pattern.

Then I start to sand, paint and assemble all parts.When all was dry I started painting by hand all the golden inlay near the soundchamber and the neck/pillar and I used enamel paint. Then I started finishing.Now I'm waiting for the final tuning and to put sharping levers on.Me and my father will be very proud and happy if you'll show my photos on your web site!!!!! I'm looking forward to see them!

Thank you for all and if I need some other accessories I'll write you soon! Best regards Eleonora
---
I have attached a picture of my completed harp. I am totally in love with it. Your instructions were easy to follow and it took me 2 weeks to finish it completely. Our summer was very humid so the drying time for the coats of varnish was extended beyone normal. Even as the strings are newly strung, it seems to keep it's tune well and I know as time goes by it will hold the tune for long periods of time.

Thanks for a very pleasant visit to your shop and thanks for manufacturing such a great instrument kit!

Sincerely,
Jan Lucas

PS - You might also be interested to know that I am a 67 year old single mom and have never built a musical instrument before.
---
I have finished my double strung Limerick Harp. I used your blueprints and cut out all the parts using a band saw. I am sending an attachment with a photo. This is my 3rd Musicmakers harp. I have built a 31 string Gothic from plans and a Heartland Harp from a kit. I took the Heartland with me to Ireland in October to play in the Seisiun Na H'Eireann pub competition with my group from Alaska. We got an award for the best overseas band. It fit nicely in the overhead on the airlines. Thank you for such enjoyable projects.

Anita Hales, 56 yr old Grandmother and kitmaker
---
I used Musicmaker's Kit plans to construct this Limerick Lap Harp, using Rosewood for the sides and bottom trim, Walnut for the neck, Pillar, top and bottom pieces. Baltic Birch for the soundboard, back and appliqués, with Rosewood backing strip. All decorative and reinforcing screws are Brass. Finish is Gloss Deft Clear Wood finish.

I have constructed numerous home projects using purchased plans ordered from various catalogs, however, your plans are the most accurate, precise and least complex that I have ever encountered. Your email responses to the few questions that arose, were fast and to the point.

Chuck Wilkinson
Seeley Lake, MT
---
Dear Musicmaker Friends,

I have recentrly finished my Limerick Lap Harp which I built from scratch using your blueprints and hardware kit. It is of black walnut that I got from a Texas supplier. I modified the neck and pilar shape slightly but otherwise it is per your fine drawings. I am very pleased. All dimensions and angles worked fine. It sounds good too. It was a project that I'm proud to show off.

I also made your Teardrop Mandolin from the kit a couple of years ago. It is great and I've actually learned how to pick out a few tunes. No fancy chords though due to 79 year old finger joints..

I have attached a picture of me with my Musicmaker projects.

Thanks for the fun and memories,

John Mathis
---
Dear Musicmaker's,

I want to tell you how pleased I am with my harp! I carved celtic patterns all over it by myself. My friends cannot believe such a harp came from a kit!

Thank you for creating such wonderful kits that are a true pleasure to build.

Velancy Reed,
Utah
---
Dear Mary,

As mentioned previously I am working on my "Limerick-on-location" shot for entry into the prestigious Musikit catalogue. I still have another film in the camera awaiting processing. The kangaroos were pretty nonchalant about seeing the Limerick when I first arrived but pricked up their ears when they heard the amazing sound quality. I'm told it was one of the nicest harps they had heard all day.
Thought you might like to see these shots taken when we were showing an overseas visitor the sights around here.
Best regards to all
Peter
Australia
---
Dear Mary,
Thank you so much! Tiffany will have a complete harp! I am going to have to learn how to play it, it has such beautiful, mellow sound! It sounds just like our Kimball piano.
We are a mission school, (Red Bird Mission School) a not-for-profit K-12 school in the Appalachian Mountains, and the wood Tiffany used for the frame of her harp is blonde maple which originally was the seat of a bleacher in our gymnasium! Talk about recycling! :-) She stained it a light golden color and it looks really nice. The wood is very hard. The bleachers were used for at least 15 years and then replaced. The wood must be 19 years old! We don't throw much away here. :-)
When Tiffany strings the last string, I will send you a picture of her and her harp. This was her first attempt at a musical instrument, and she did quite well. You will see her joints are not perfect, but they hold. And we are so proud of her. Not just for completing the harp, but for even attempting it! And she got an "A" on it! And the "Technology Award"!
Tiffany graduated from high school last Sunday. She will be pleased to be able to complete her project. Thanks again! And God Bless you all!
A pleased customer's Mom,
Lynette Barker
---
Hello Kit People:


Two things - first, thanks for making such a wonderful Shepherd's Harp kit. It went together perfectly and is a beautiful thing to play and behold. Start to finish took about a week, including things I had never done before like soundboard decorations using the transfer tool I got from you. A friend who has played Celtic harp for over 20 years says its one of the nicest sounding instruments he has ever played - "What a big, rich sound!" is the quote.

Here are two snapshots of the Shepherd's Harp I recently built from your kit.

You can see that I replaced the walnut soundboard trim up the sides and across the top with a wood herringbone inlay. I did use the iron-on trim across the bottom, as it looks like the walnut base. I also filled the carving on the sides with gold leaf.

The laser rosettes were used as provided, but the inset was painted with a subtle blue paint to add a little visual interest.

The soundboard decorations were transferred using your slick electric transfer tool, and colored with colored pencil, per your site's suggestion. The Celtic design was found on the web, at a free-use clip art site.

We also decorated the walnut oval reinforcement piece on the other side of the harp with a Celtic knot design filled with gold.

All the best,
Brian Flora
Organ Builder
www.floraco.com/organs
---
I built one of these (Limerick Harp) a couple of years ago NEVER having done anything like that before. I am thrilled with it. It has a big, attractive sound, and to my ears, sounds as good, or better, than other harps the same size. It really was not difficult to put together: it took me 2 weekends. A student of mine also ordered a kit, and hers came out just as well.

-Andra Bohnet
---
I have ordered many plans and kits from Musicmaker, and have always been 100% satisfied when I receive it! I have started a harpmaking usiness, and still use your plans and kits! I am so happy to have a company I can trust around when I need you!

-Randal Novitch