Testimonials: Smartwood Harp

My daughter is enjoying her Smartharp very much! It was an instant hit for Christmas! It is a beautiful instrument too.
Thanks for the great work!
-Alyssa
---
Dear Jerry and the staff at MusicMakers,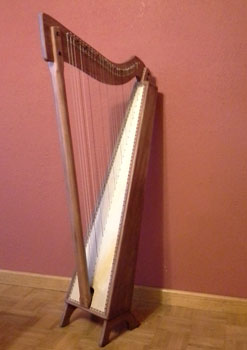 What a wonderful journey it has been from ordering your Smartwood Harp kit to the completion of the project! You, your staff, and the kit have lived up to every expectation I had, and have gone well above and beyond what would have been required. The kit was so well thought out, and the instructions so clear, that I was very comfortable assembling it. And now that it is complete, I am 100% satisfied with it. The sound is great, and the simple design is beautiful to look at.
You and your staff has been extremely helpful through the whole project, answering my questions quickly and expertly. I would reccomend this kit to anyone who is wanting an inexpensive, yet beautiful harp.
Jerry, you have started me on a wonderful journey, a journey that started when I found your website, and I will reflect fondly on you and MusicMakers every time I play this beautiful instrument.
Thank you so very much!
Brian Woolery
---
Good morning, Jerry,
I'm Yoshiteru Suzuki in Tokyo.

I'm glad to tell you that I've already finished installing sharp levers for 29 strings.

It is no problem to find right position that makes the correct # pitch.
Everything to do have been accomplished ,
Three cheers ! we say in Japanese ,Banzai ! banzai ! banzai
And Pour myself two or three glass of SAKE !

Thank you for making me feel such a satisfaction through making SMARTWOOD HARP.
---
Video from Iris Nevins.
---
The harp looks beautiful especially now that the dents are fixed (with your help), I put the last coat of finish on the repairs today and the finish you sent me blends in perfectly. I am really impressed with the quality of the harp and I am even more impressed with your friendly and knowledgeable customer service. Of course the real test will be next Monday, my daughter's birthday, as it is a present for her; she is the harp player of our family. I am sure the harp will be a hit.
Our experience with your company means you will be high on our list should we ever want to upgrade this harp (though I suspect she will always want to keep this particular harp as her "easily portable harp" forever, you can't have too many harps!).
Anyway thanks again,
Clifton Wood
---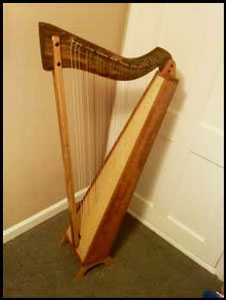 Thank you very much for quick response to me.
I received two tuning pins, and I completed the harp this weekend.
It was easy enough for me to complete and very satisfied for the sound quality.
I got it for one of my orchestra students who is passionate for harp but cannot afford one.
I will definitely recommend or order again for my future students.
I attached the harp picture I finished.
Thank you again.
Mitsuru Saeki
---
My experience with the Smartwood Harp Kit has been extremely positive. The website including the videos starring Jerry Brown and the downloadable instructions gave me the courage to attempt such a project in the first place. I was able to watch the videos and take notes even before placing my order.
The kit arrived within four days of ordering it. A few items of hardware were missing so I called and received great customer service. The missing items were shipped out immediately. I felt that I had friends working alongside me in the shop--kind folks who really wanted me to succeed. I called several times after that and always received a dose of encouragement along with the information I needed. Initially, I thought it might take me most of the winter to finish building the harp but within two weeks I had the strings on! After one more week the pitches had settled in nicely so I could install some sharping levers. This harp is exactly what I hoped it would be--light weight and simple, a therapy harp in every sense.
Thanks so much!
-Diane
---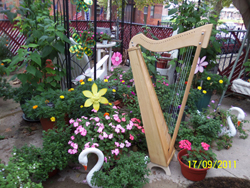 Hi All,
I just took a picture of my Smart wood harp. It looks nice. The height of the new feet work great. Thanks for making such a nice affordable harp.
Lorraine
---
Jerry,
I'm very pleased with my Smart Harp. I'm trying to learn to play some simple pieces now. My right hand gives me little trouble, partly because I plucked classical guitar strings for decades. My left hand is very clumsy, but It'll improve with practice. My fingertips are a little sore. You've been very helpful all through this project, as you were when I built my lute years ago. This is a high-quality product and I hope it will be successful for you. I'll be adding some levers one of these days!
Regards,
Bill
---
The kit arrived two weeks ago and it is absolutely fabulous. Two evenings to sand, stain and varnish; one evening to assemble, another to install strings and parts of two evenings to install levers.....
Thanks...
KEN