Testimonial: Psalmodikon
I am very satisfied with my purchase. I ordered 2 psalmodikons which were already assembled. I gave one to my daughter and kept one for myself. My daughter loves hers! As for myself, it proves to be just what I need because I never learned to read music. We are of Norwegian heritage. Family records indicate our ancestors brought a psalmodikon to America from Norway. We want to keep music in our family and the psalmodikon is perfect for us. I am certainly going to do business with you again. The psalmodikons were packaged with care and arrived very quickly. You have been very courteous to me and overall I am extremely satisfied with the experience!
Thank you very much!
Carol Benzing
Iowa
---
I visited your store and shop a couple of weeks ago, and purchased a Psalmodikon kit. I just wanted to thank you for your hospitality, my wife and I had a delightful time. The tour of your shop was fascinating for me, thank you. You are so very gracious, our visit with you was the highlight of our trip.
David Barrett
Missouri
---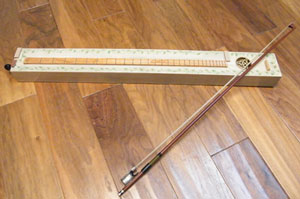 I received the kit for the psalmodikon instrument. It was very easy to assemble. I decided to driftwood stain, decorative paint and hand scribe the numbers to give is a rustic homemade look. It was easy to tune. I need to practice playing it to get coordinated and it does sound great. Thanks for providing the kit and interesting history for this instrument.

Bev in Texas
---
Just wanted to say that I've been working on and off on the kit for 6 days now and am up to step # 8. This is a good kit, ideal for someone new at this. The instructions are very good as always with MusicMakers. The materials are of very good quality for a low cost kit. I hope they sell well.

Will send a pic when I finish.

Keep up the good work!
Philip