Set your mind at ease about your ability to build a musical instrument from a kit.
---
Can I really build a kit?
The simple answer is - Yes! We guarantee it! | Shop Kits Now.
Read on for a more verbose answer to this question.
Security - Hundreds of Happy Customers
Musicmaker's has been helping folks just like you build quality musical instruments for over 40 years. This is what we do. We take our greatest satisfaction from the letters and pictures we receive from our customers about their completed projects. We have hundreds of testimonials from happy customers. In fact - we are so certain that you can successfully build our kits that we offer the best warranty in the business. You can return your kit for a full refund for any reason within a year of the date of purchase.
Simplicity - Clear Instructions
Though previous woodworking experience is a bonus - it isn't necessary. Many of our customers have never had any previous woodworking experience and have had great success with our kits. Read what one novice woodworker had to say about our kits:
"I just finished building the 36 String Gothic harp, and it is absolutely incredible! I was amazed at how easy the instructions were to follow, especially since I have essentially no woodworking experience, and I am only a senior in high school. I decided to build this as part of my senior mastery project on harp therapy. The teachers at my school are amazed that I actually took the time to build a harp, and I highly doubt they will be disappointed by the result! This is the fourth harp I have owned and by far the best sounding one! Thanks for providing me with the tools to build my most precious harp!" — Karin Skoog
We have many more testimonials with similar messages. This is because we have done our best to design kits that go together with minimal fitting, cutting, and shaping.
Your job as a kit builder is to do some basic assembly work, lots of sanding (or what we call character building), finish work, and finally - installing the hardware and strings. Most of our kits only require a basic assortment of hand tools such as:
Hammer
Wood glue (Elmer's)
Files
Wire Cutter
Screwdriver
Pliers
Sharp Chisel
Sandpaper
A Few Clamps
Some electric hand tools will certainly speed up the process and would be worth purchasing or borrowing (Hey, this is your excuse for getting another tool):
Electric Hand drill
Electric palm sander
Electric jig-saw
Electric router for rounding over edges
Support - Available for Questions
Musicmaker's has experienced woodworkers here to help you with any problem you might have during the construction process. We are equally happy to answer your questions by phone or email.
After over 40 years of helping customers build our projects - we have talked customers through just about every possible problem that could be encountered. All of that troubleshooting experience helps us produce better kits and assembly instructions.
Speaking of our assembly instructions - people tell us they are the best assembly instructions they've ever received with a kit. We include many helpful hints, handy suggestions, and lots of pictures and illustrations. You can download and read the assembly instructions for any of our kits before you order. You'll find a link to download the assembly instructions on each KIT product page so you read through them before you order.
Savings
Building from a kit is also an economical way to get a performance quality musical instrument. We are a factory-direct operation so you don't have to pay the middle-man markup. You can own a musical instrument suitable for the performance hall for a fraction of the cost of a comparable finished brand-name instrument.
Satisfaction
There is nothing quite so satisfying as showing off your finished instrument to friends and family and then telling them that you built it yourself. Just watch the jaws drop and the eyes pop open. This alone will be enough to impress people until you learn how to play.
Not only will you develop a sense of accomplishment and pride by building your own instrument - but you will develop a complete understanding of how your instrument works. This intimate knowledge will help you know how to take care of and maintain your instrument, such as tuning, re-stringing, and making small adjustments to keep it playing its best.
Want to read more about building our kits? Read the Harp Kit FAQ. Although written primarily with harps in mind, the ideas apply to all of our kits.
---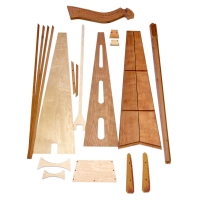 Handy in the shop? Musicmakers offers a variety of DIY instrument kits for your next shop project. Harps, Lyres, Reverie Harps, Mandolin, Ukes and more!
---