Annette Blanchett, the Story Lady, uses the Reverie Harp in her work.
---
The following is a reprint of an article written by Debbie Griffin for the River Falls Journal published April, 30, 2009.
---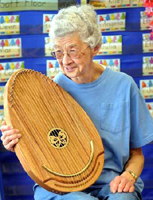 Annette Blanchette, a local woman known as the "Story Lady" for all the volunteer reading she does, fell in love with the Reverie Harp. A group of her biggest fans bought one for her, but it wasn't easy making the gift a surprise. People all over town know her as the "Story Lady." Annette Blanchette reads to kids and the elderly, bringing books and treats, wearing costumes and making story time special.
Angela Kaiser has worked at the university preschool for 21 years and said about Blanchette, "She was our story lady as long as I can remember."
Kaiser said on Halloween, Blanchette comes dressed in theme to read the "Humbug Witch." Blanchette has used a bunny suit and other disguises to delight the children and seniors, too.
She often brings treats for special occasions as well, like Easter eggs or preschool graduation hats.
"The kids, they just love her," Kaiser said.
Circling back
Kaiser heard Blanchette talking about a therapeutic harp she'd seen and heard while at the Woodbury (Minn.) hospital one day. She began to tell people about the Reverie Harp and how she intended to get one of the "amazing" instruments for $495.
Kaiser said, "It was kind of love at first sight for her, and she was pretty determined that she was going to get one."
That got Kaiser thinking. Blanchette does so much for others, the others wanted to do something for her. Kaiser said they've given her gifts but she usually gives them back or away.
Blanchette's fans began planning a big surprise and pulling in large and small donations from about 45 people. Kaiser heard of kids giving their allowance and from their piggy banks.
Before they could get the harp for Blanchette, Kaiser heard her say she was going that day to order one. Kaiser rushed to Musicmaker's Kits, the Stillwater, Minn., company that makes the Reverie Harp, and asked them to not let the Story Lady pay.
Kaiser had arranged a party for April 16, then heard Blanchette report she'd be picking up her harp on April 15. Kaiser scrambled to re-arrange the party for April 13 instead.
"She didn't make it easy for me," laughed Kaiser, "but we surprised her."
The kids gathered round for story time, this time with Blanchette seated in the audience. Kaiser read the special story she'd written, which told about how the Story Lady touches lives.
The tale ended with the Story Lady getting her Reverie Harp, which she will definitely keep.
Musicmaker's employee Matt Edwards invented the harp and says a music therapist in Australia who does end-of-life and hospice-care music therapy inspired him to design the harp.
Fundraising for Blanchette's harp went well, and her fans gave her the $120 extra, which Edwards said she decided to "pay forward" and buy another harp for St. Bridget Church.
A strumming story lady
The 71-year-old said, "I was so surprised, you can't imagine. I didn't have a hint."
The Story Lady says the harp is a dream come true for her because she's always wanted to play an instrument but never learned. One special quality of the Reverie Harp: It can't play a bad note.
All notes played on its 21 guitar strings go with each other. It doesn't play sharps and flats.
Blanchette first encountered the harp at least a year before she handled and fell in love with it. She'd seen a volunteer harpist at the hospital many times, with a big harp and the small Reverie.
This year, she finally got around to holding and trying the round, smooth instrument.
"I couldn't believe what happened when I did it," she said. "Holy smokes!"
She said the way it's held is much like cuddling. When she strums or picks it, she can feel the vibration. Blanchette says even when it's sitting flat on her lap, it picks up the vibrations of her voice.
The Story Lady bought herself a case and plans to take the harp everywhere to let people try it. It's already been on a trip to Oshkosh with her, where it stirred a lot of interest.
Blanchette says music is special. She's seen the difference it makes.
She used to sing at senior homes but "lost her singing voice," so now sits in the audience during music time and encourages seniors to sing along.
In her 35-year history as the Story Lady, which started incidentally when she worked at the college, she's picked up audiences at the university preschool, St. Bridget Parish School, the Jacob's Ladder preschool at Ezekiel Lutheran Church, Kathy's Kinder Cottage, WelLHaven Senior Apartments, The Lutheran Home, Kinnickinnic Long-Term Care and others.
"After I retired, I just did it more often," the Story Lady said.
She has a lot of fun and enjoys having St. B's kids in preschool, kindergarten and first grade.
"I have to tell you, that is an incredible experience because I watch these kids grow into readers themselves," Blanchette said. "Catch a kid early and make them a reader, they have a gift they can keep for life."
She especially appreciates the gift because she had a reading disability as a young child, in a time when they weren't yet recognized. She said a particular nun would not give up on her, guiding her through the first grade twice and two terms of summer school. Finally, she learned.
"She gave me a gift; I have to give the rest of the world a gift," she said, adding that every time she sits down to read, she thinks of that sister.
She works hard to stay in good physical shape and keep her arthritis at bay. She doesn't drive so walks everywhere she goes, including up the Golf View Drive hill.
Blanchette enjoys reading stories, donning costumes, making little gift goodies and handing out (anywhere she can) butterscotch-button candies with a smiley face on them.
"When you do all these crazy things," she said, "people smile."
Blanchette says she collects smiles and expects her new Reverie Harp to capture many more. She said instrument means even more coming from all those people. It melts her heart, she said.
The Story Lady says music is a gift from God, something really special. She loves the harp because anybody can make the music and she agrees with something the harp-makers say: Music begins where words end.
Blanchette said, "We all speak music."
---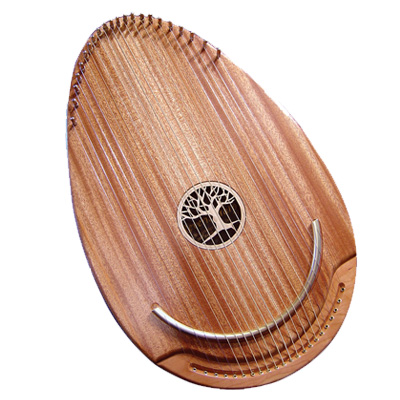 Considering purchasing a Reverie Harp? The Reverie Harp is a music therapy instrument designed to be played by everyone regardless of musical skill and produces soothing music, healing vibrations, and lightweight portability.
---