Information about the Musicmakers Studio Harp which was discontinued in 2005.
---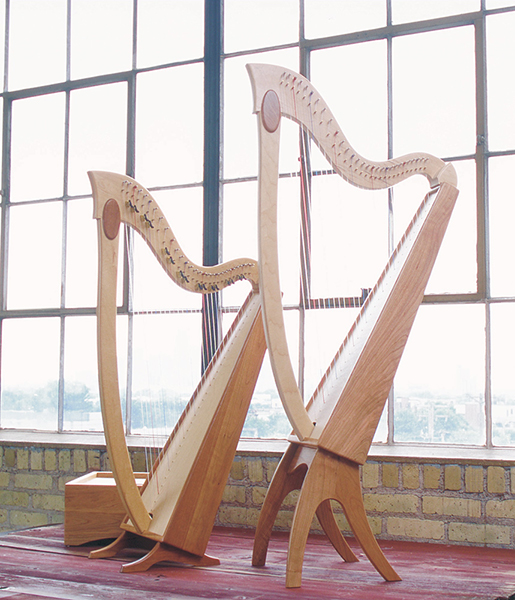 The Studio Harp was produced from 1996-2005. Although we stopped producing the harp, you can still buy the blueprints and hardware pack.
Strings and Tuning for the Studio Harp
This harp had 29 strings. The standard string set for this harp was all monofilament ny
lon with a range of A2-A6.
We also offered an 'optional' tuning that included sound wound strings in the base. The tuning for the optional string set was G2-G6.
Key Specs for the Studio Harp
Woods. The sides were cherry, the neck and pillar were laminated maple, and the soundboard was aircraft birch.
Dimensions. This harp was sold with either 'short feet' or 'tall legs'. With short feet, the harp stood 47" Tall and would require the harp to be elevated about 8" off the floor for comfortable playing. With the tall legs, the harp stood about 58" tall.
The Studio harp weighed about 16 pounds.
Pricing for Studio Harp
In 2005, the last year of production, the Studio Harp with Long Legs sold for $1095 finished or $575 as a kit.
---
---