Harp Wheels
wheels
$199.00
Product Details
---
Info
Musicmakers Harp Wheels are a simple, effective, and wondeful way to transport your harp. With three differenct sizes you are sure to find a size that will work for your harp. All of our wheels includes two hand brakes allowing you to play the harp while the wheels are still attached.
And YES - our harp wheels can handle the weight of a pedal harp. Our harp wheels can hold harps that weigh up to 100 pounds.
Please Note: Musicmaker's Harp Wheels work best with Musicmaker's Harp Cases. It can be difficult to modify another brand of gig bag to hold our wheels. However, if you want to use the wheels with another brand of harp and you just need to rool the harp around without the case, they should work fine.
Sizing
Available in three different sizes.
Small: Size of base is 13 in. wide by 14 in. deep. Fits our Voyageur Harp, Jolie Harp, and our Belle Harp
Medium: Size of base is 16 in. wide by 15 in. deep. Fits our Gothic Harp
Large: Size of base is 18 in. wide by 15 in. deep. Fits our Cheyenne Harp and our Regency Harp
Choosing the right size
If you don't have a Musicmaker's harp you will need to take a couple of measurements to choose the correct size wheels.
Find the points on the bottom of your harp that contact the floor and take measurements to get the width and depth. See the picture below for an example. When you have your measurements, choose the smallest size set of wheels that will accomodate your harp.
---
---
Hello Jerry,
Here's an update on my project of getting straps attached to my FH32 Dusty case to work with my harp wheels. I just got it done today, and I wanted to show you the result - they work great! A local auto and boat upholsterer did the work, and I have attached some photos for you. These show the case (with my FH32 harp inside), with the straps holding it to the harp wheels.
I requested 2 wide-band straps, with buckles for adjusting and unfastening (to make it possible to fully unzip and open that end of the case). We also decided it would be helpful to add another leather handle to the opposite end (the lower corner), which was a great idea. As you can see, it makes it easier to push and pull the harp.
The final photo shows my FH32 harp (out of case) on my harp wheels, complete with my wonderful harp desk and ready to play! Many thanks to you and the innovative folks at Musicmakers for your amazing harp resources! :)
Blessings!
Susan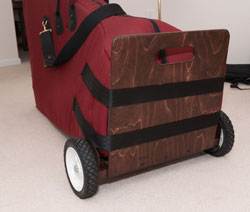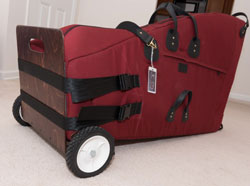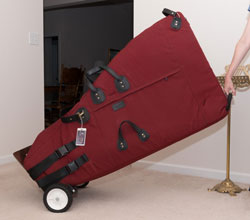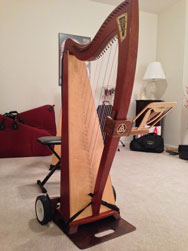 harp wheels kudos
Denise Bennett
04/12/2018
I love my harp wheels! They have made a huge difference in my work as a chaplain in a retirement home because now I can move easily from one area to another without being a workman's comp claim waiting to happen! Still trying to decide how out how use them with my gig bag. There was a luggage place that fixed the zipper so maybe I will take it to them. Bungee chords seem a bit too tenuous. But thanks so much for this great product!
1 of 1 customers found this helpful.
Not really satisfying
Stefanie Bieber
12/15/2017
Verified Buyer
I bought the harp Wheels for my Dusty Strings FH36. It seemed to be a good idea and a much cheaper solution than buying the very expensive Harpo, even considering the high shipping costs to Germany. The first surprise was that I had to pay another 45 € for customs when the Wheels arrived. Okay, nothing can be done about that, but it would have been helpful to have the information about that before the order. I tried to fix the wheels to my Dusty Strings Bag and it did not really work with rubber straps as shown in the video. They are much too loose, so that the wheels fall off when lifting the harp up the stairs or into the car. I found a quite complicated technique to fix the wheels to to the harp bag, but then the next problem appeared: the Dusty Strings Bag dos not have a handle on the backside but only on the front side of the bag. So it is quite unsafe to roll the harp around because it can easily slip away and fall. So all in all I have spent too much money on a - for me- kind of useless tool. :o( The idea basically seems to be clever but it only works with the music makers bags or with a lot of (expensive) additional adjustments like shown in Susan's review. My final estimation is: not of good use or of good prize for the European customer.
Sorry to hear about this. There isn't much we can do about customs and we try to make it clear that overseas customers will be responsible for import duties taxes and customs. It can be a challenge to use our wheels with bags from other makers. Usually folks can get them to work well enough for standard use but getting the wheels to remain attached while lifting the harp or going up and down steps with the wheels is a challenge indeed.
6 of 8 customers found this helpful.
Wheels for my Harp
Kathryn Pitkin
10/05/2017
Verified Buyer
I am delighted with my wheels. I was beginning to find it difficult to carry my harp, but the wheels make moving the harp easy and safe. The wheels are beautifully made, easy to use and arrived from overseas within a week. I love my new wheels. Thank you.
3 of 3 customers found this helpful.
Brilliant invention!
Anita
09/04/2017
Verified Buyer
These "wheels" are a brilliant invention. If there were 10 stars I would give 10. Working in a hospital for me means walking around carrying my harp and at the end of the day aching shoulders back and arms. The wheels have solved the problem. No more stress carrying the instrument, no pain, just the sheer joy of playing the harp with no worries. The wheels are beautifully made and arrived in Australia in record time, beautifully packed and ready to go. The wood is also amazing. Thank you.
8 of 8 customers found this helpful.
It is perfect
Chris Blaicher
08/26/2017
I got the large size for my wife's Dusty Strings orphan FH-34 and asked for it to be unfinished. A D-S orphan harp is made from several different woods, hers has a bubinga base and front post. I stained and varnished it to match the bubinga. The base makes the harp even more stable. It is great.
1 of 1 customers found this helpful.
Outstanding!
Elaine Pontious
07/10/2017
Verified Buyer
These wheels will make a big difference in my hospice work. It is a simple looking device from a brilliant design idea that anyone with a folk harp would welcome. The 'heavy lifting' part of my work has been greatly reduced -- thank you!
4 of 4 customers found this helpful.
I love my new harp wheels.
Lydia
06/13/2017
Verified Buyer
The wheels are so helpful in aiding mobility and they are easy on-easy off! One less thing to worry about when out and about. There was not much lag time for arrival, a definite plus. The other thing that I really liked was the easy to open, not-excessive packaging. All in all, another positive experience. Thank you!
3 of 3 customers found this helpful.
harp wheels
C. Martin
06/07/2017
Verified Buyer
I think these are going to work just fine for my Dusty Strings Ravenna. I was hoping I could move it without having to remove the legs and platform that it sits on. This may be just the right fix.
5 of 5 customers found this helpful.
---