Reverie 2 - Economy Model
This Musicmakers Economy Reverie 2 is a music therapy instrument designed to be played by everyone regardless of musical skill and produces soothing music, healing vibrations, and lightweight portability. This instrument delivers special experiences to all who play it.
To make Reverie Harps accessible to more people, we are pleased to offer a more economical model. The tuning is the same as the original model, the soundboard is made of laminated birch instead of solid mahogany, the strings are attached differently at the bottom, and the entire instrument has a red mahogany stain. This model features our "slimmer" shape.
What's Included:
(1) Economy Reverie Harp 2
(1) Gig Bag
(1) Tuning Wrench
(1) Tuning Chart


Owner's Manual
Reverie 2 - Economy Model
| | |
| --- | --- |
| Item# | rev2fin |
| Strings | 22 loop-end wire |
| Tuning | C Pentatonic Reverie Tuning |
| Weight | 4 pounds |
| Size | 20" long, 12.5" wide |
| Soundboard | Laminated Birch |
| Frame | Poplar |
| Warranty | Musicmakers Warranty |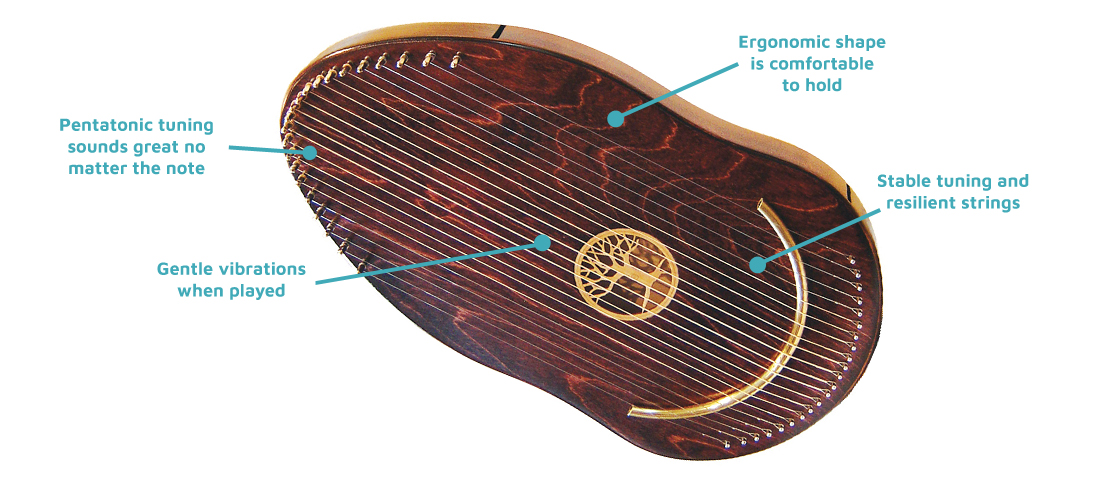 Reverie Harp
Want to read more about the Reverie Harp? We wrote lots of great content for first-time owners to get the most out of their music therapy instrument.
Thank you!
MucsicMakers has excellent customer service! I am still learning how to play it, but it sounds beautiful! It's a lovely addition to all of my sound healing instruments that I use in my classes and with my clients.
MT
12/24/2022
Verified Buyer
Even better than I imagined
I just began playing the harp this year, starting with a Ballad kit that I built, and a Sonnet lap harp on the way. Loyal MusicMakers customer here! I loved the sound of the Reverie and thought it would be fun to noodle around with. Honestly I wasn't sure how much I'd enjoy playing it versus sitting back and listening to recordings. If you have this same hesitation, I can assure you, it's even BETTER playing it and hearing it in person. Since it was delivered I've hardly put it down. The sound and resonance this little harp produces is incredible, and feeling it vibrate in your body and soul wipes away stress. I might actually bring it to the office! I went with the Reverie 2 Deluxe and I love it. Thanks MusicMakers!
5 of 5 customers found this helpful.
Playing With the Angels
A musician friend introduced me to the Reverie harp and suggested that I just start playing. There's no experience needed. Before I knew it, 15 minutes had passed. I felt as if I had been transported into the clouds and was playing unimaginably beautiful music with the angels. I have never played a harp before, and yet, I made music. The harp is exquisitely made and the skill and care that went into making the harp is palpable. The day after I played my friend's harp, I purchased one for myself. It is every bit as glorious as my friend's harp and I know I will be playing it as often as I can I find myself at a loss for words that adequately describe the magic of the Reverie harp. I can say for sure that its music is enthralling and you will be thrilled to have one.
Melodie G.
09/15/2021
Verified Buyer
3 of 3 customers found this helpful.
Beautiful Resonance
A music therapist recommended the music makers web site. I wanted a portable harp to play at the conclusion of a yoga practice. The harp's resonant sound is beautiful and the woodwork is excellent.
Cheryl J
08/06/2021
Verified Buyer
3 of 3 customers found this helpful.
Beautiful and Extremely Well-Made
This harp is a work of art. It is rare to find such high quality workmanship - and an absolute joy when I do. The sound is strong and clear, and has a magical quality (as is the case with harps, but this one in particular). All in all, if I could afford a bigger harp from Musicmakers, I wouldn't hesitate. Their work is beyond compare!
K di Passero
07/11/2021
Verified Buyer
2 of 2 customers found this helpful.
Reverie - a wonderful addition to my harp family
Okay, I bought a Reverie "just because". I play both pedal and lever harp. I practice hard and I love each in their own way. But, sometimes, I just want to mindlessly "noodle". The Reverie allows that - no matter what strings you touch, the sound is lovely. The shape is comfortable and the workmanship exquisite. I have used this harp to play for a dying collie and he responded with calming respirations until he passed. I took this harp to a friend with severe PTSD and saw him smile and relax for the first time in days. I also took it to a friend who was hospitalized after surgery and he told me it was "his lifeline" and how much he enjoyed serenading the nurses. This is a wonderful little harp! It is convenient to carry on a trip to the park or beach, easy to tune and the carry bag is substantial. I love this harp for peaceful relaxation in the hammock, sitting on a bench in the park (you may draw admirers!) and for any time you want harp music that you can just play gently and calmly and without worrying about your timing or how hard that piece of music is to practice!
Peggy H
07/11/2021
Verified Buyer
2 of 2 customers found this helpful.
First Harp
I love my harp. The sound is great to harmonize me after a long day at work or just to dream :-)) It is easy to play and the instrument is very beautiful. :-)
Jeannine E.
05/20/2021
Verified Buyer
2 of 2 customers found this helpful.
Reverie Harp
Musicmakers is the best.. Have had a couple Reverie Harps. Always fast delivery. Always the most BEAUTIFUL instrument.
Judy Knudsen
04/17/2021
Verified Buyer
2 of 2 customers found this helpful.
My first harp
It is my first harp. I am very impressed by the beauty of the instrument. I saw it had just been crafted. It is art by itself. Its smell, its shape, it is very sensual. I love touching it. Playing it makes me relax quite instantly. As a contemplative person, I am like in a bubble where nothing else exists but the sound and vibration. I better understand why it is not meant first for performance nor playing songs. I see that the best to enjoy the harp is to let go and just play. It is a discovery, different each time. I like very much the idea to create something and be connected with myself through the instrument. I also appreciated the close customer service through Matt who took time to answer my questions. I am at the beginning of a journey with my precious harp :)
Élodie
11/14/2020
Verified Buyer
6 of 6 customers found this helpful.
AMAZING
I love this instrument! I've researched a lot of music therapy instruments to incorporate into my holistic health practice and by far this was the most affordable, versatile, easy to use, and approachable. As a trained musician working to incorporate sound into my therapeutic practice, I value all of these qualities in this instrument. THANK YOU for creating this amazing instrument!!!
Rob Meyer-Kukan
10/27/2020
Verified Buyer
3 of 3 customers found this helpful.
Wonderful Harp
I have no formal music training, but I can make beautiful sounds with this harp. Lots of fun just seeing what you can do with it and very relaxing just to strum and feel the vibrations against your body. Wonderful therapeutic value in this insane world.
Steve
07/07/2020
Verified Buyer
4 of 4 customers found this helpful.
Reverie Harp Review
I am soo happy with my Reverie Harp. It's tone is soo beautiful. I'm a harp player and this lap lyre type harp is soo easy to play. Their customer service is wonderful. Thank you music Makers
5 of 5 customers found this helpful.
Best Purchase Ever!
I absolutely LOVE my harp! It is the most wonderful thing I have ever purchased. It doesn't matter which strings I touch, the sound is always joyful. 💗💗💗 Thank you for creating such a beautiful instrument. 🙏🏻
Pam
05/20/2020
Verified Buyer
2 of 2 customers found this helpful.
My SECOND REVERIE HARP!
I bought my first Reverie Harp in Sedona, AZ. Fell absolutely in love with it. I must add I play no strings instruments, only drums. I picked it up and just started messing around with it in the store! I bought it instantly. I played it so much that my fingers got blisters. I have no idea what I am doing on that thing but people keep telling my I sound like I have been playing forever! One person even wanted to book me for a wedding!! Well, sadly, it got left in Mammoth on a trip and I couldn't recover it. Heart broken. I bought my second one from Music Makers just last week and received it a few days ago. My heart is full again, and as a non-musician I can just say that the sounds bring me joy beyond words! The quality of the instrument is superior. THANK YOU for bringing my harp back home! Octavia
Octavia Lindlahr
05/10/2020
4 of 4 customers found this helpful.
Reverie 2 harp music magic
The reverie 2 harp is a well made instrument. Gorgeous solid wood body. The sounds that vibrate from it are pleasant and peaceful. Comes in a nice carry case, included is a tuning instrument and information about the harp, music sheets to get you started. Children and grown ups in the house enjoy playing it, even just to tinker. Met all my expectations.
2 of 2 customers found this helpful.
Five Stars Not Enough!
Friendly people, fantastic service, beautiful harp. Now if only I can learn to play it.
Grandpa Woodworker
04/27/2020
Verified Buyer
2 of 2 customers found this helpful.
so soothing
It is very well made, beautiful. I love to play it to relax me when I get up tight. No need for training, it just sounds goo any way you play.
Lucille Ashcroft
04/22/2020
Verified Buyer
1 of 1 customers found this helpful.
Every generation falls in love with the Reverie!
I received my Reverie Harp a little over a month ago and I find it so relaxing and soothing. I asked my 16-year old grandson to try it but he was "too busy with his computer games". Then a little later, after hearing me play it, he decided he would like to try it "for a minute." So, he sat down on the floor at my feet and started playing it -- and kept playing it. Eventually, he looked up at me and said "I didn't realize I would like playing this so much!" This was really high praise! My 2 and 4 year old great-grandchildren also love it! Thank you, MusicMakers!
Elizabeth
03/28/2020
Verified Buyer
5 of 5 customers found this helpful.
New Devotee!
Received my absolutely gorgeous Reverie Deluxe yesterday and I am delighted. I am a harpist and very used to tuning strings yet somehow managed to pop the very first string that I tuned yesterday. Yep, wrong tuning pin being turned. Ack, what a rookie mistake that I would have never made on my harp! Anyway, thanks to your quick response, the new strings I ordered last evening are already on the way. As a musician and a long time expressive arts therapist who specializes in hospice care, I cannot thank you enough for your creativity and craftsmanship. You have a new devotee! Be well and please keep creating!!
5 of 5 customers found this helpful.
Reverie Harp
Thank you for all the care you have taken in making and shipping this wonderful musical instrument, which takes you on such a gentle journey.
12/03/2019
Verified Buyer
6 of 6 customers found this helpful.
Sweet Instrument of Peace
I play the lever harp and volunteer playing for hospice. What I like about the Reverie is that I leave my paper training behind and just play. It is freeing and lovely. I have played it for my acupuncture patients and one is hoping to buy one! The bell like tones are lovely. You can gliss and it doesn't sound like a piano. The small size and light weight make it very easy to carry about. Thumbs up!
Karen
10/09/2019
Verified Buyer
9 of 10 customers found this helpful.
Reverie Harp
I love my R.H. It's so easy to make lovely music on it and it's a real piece of art, besides.
Donald Graff
06/21/2019
Verified Buyer
5 of 5 customers found this helpful.
Rêverie Harpe
Bonjour. J'ai attendu, avec impatience, que ma harpe soit livrée. Quel ravissement lorsque j'en ai joué ! Elle était très bien accordée et le son et la sonorité, la résonance m'ont enchanté ! Je suis très satisfait et très content de mon achat! Merci MusicMakers !
Daniel
05/03/2019
Verified Buyer
9 of 9 customers found this helpful.
Beautiful music
I love my new Reverie Harp. I have a very stressful job, my anxiety is always high. I can't believe how relaxed I feel once I start playing. This is the best thing that I have done for myself in a long time.
Agnes Barbosa
04/22/2019
Verified Buyer
11 of 11 customers found this helpful.
My heart overflows with joy
Hi Matt, It finally arrived! I'm very happy, my heart overflows with joy and peace! When I played the Reverie Harp for the first time I felt a deep love in my heart. It was wonderful. It is very special, very beautiful! I'm very happy!
Ana Paula Happy, happy, happy!!!
03/07/2018
17 of 17 customers found this helpful.
this instrument will fill a void
My thanks for developing such a beautiful therapeutic healing harp, the "Reverie Harp". Jackie is intrigued by the harmony and this instrument will fill a void where she has lost both her piano and guitar skills. As I sit at the computer, I can hear her playing, wonderful.
14 of 15 customers found this helpful.
My veggies grew like mad
Thank you for making this beautiful harp! It's just awesome. I played my harp to my garden and I kid you not - my cucumbers and other vegis grew like mad. My family thought I went to the market. Thank you again for your wonderful skills. The best of luck.
12 of 13 customers found this helpful.
Everyone in my house plays it!
Hi Matt, I ordered the therapy harp and I love it! Everyone in my house plays it and I have six roommates! Very relaxing and beautiful! I'm hoping to get one of your mountain dulcimers next! Have a beautiful day! <3
11 of 11 customers found this helpful.
Many doors of healing opportunity are opening
I played the Reverie Harp at a gathering a couple of weeks ago, and people were mesmerized. One gal who plays a regular harp told me it sounds like I have been playing for years and years. I then took it to a friend of mine and played for her and her husband, the strumming and plucking and then the dulcimer hammers - they were awed. This is the most incredible instrument ever. When I was first told I would be playing a stringed instrument, I had a dream. In my dream, I found what now as I know it appears to be a dulcimer, but it was strummed and it was the most beautiful sound I had ever heard. I thought, God, is there really an instrument that sounds that beautiful? So I researched the internet and the very closest was a 36 string harp, but yet, it was still not the sound I had heard in my dream. So I typed in harp kits one day and came to the Musicmaker's website. I saw this Reverie Harp and listened to the sound bites. It was the exact sound I had heard in my dream. I teetered to pay bills or to get the harp when a voice came very loud and clear into my head "JUST GET IT!"...At which point I then ordered the Harp. It is the most amazing sounding instrument anyone could ever play. No special musical talent is needed, just a desire to play. Thank you for creating this most wonderful instrument. I know many doors of healing opportunity are opening to play for people who need to be touched.
Pamela - Almond, WI
03/07/2018
20 of 22 customers found this helpful.
We all felt comforted by its lovely sounds.
My mother had a stroke in Mesa, AZ in December. My son and I flew down there on Dec. 17, and were able to support my Dad for the following week, as her condition failed. My husband and our other two children arrived on Friday, and Mom died on Saturday, Dec. 22. We all were with her in the room, and feel blessed that we had the honor to be with her. It was life-changing or my children (ages 23, 21, 18) Just two weeks before she died, I became aware of a very small harp-like instrument that was made by Musicmakers in Stillwater, MN. It is called the Reverie Harp. I had it shipped to Mesa, on the Wednesday before she died, and she was able to strum it on her lap, for a couple of days, until she became too weak to do so. Music was very important in her life, and she was so proud that I had taken up the harp...and was studying therapeutic music. Those of us in her hospital room would strum the little harp and just make pleasant sounds in the midst of a hospital setting. The harp was on her lap when she died, and we all felt comforted by its lovely sounds.
Kathy, Jackson, MN
03/07/2018
22 of 22 customers found this helpful.
Irma played and we were in awe
Background on Irma: Irma is in a nursing home.. She is in her 80's and is completely bed ridden. She has no hips and is in extreme pain with any movement. She can't change position without help - lies on her back in bed 24/7. She wishes she could die. Her 92 year old husband visits daily. Her hands are by her sides. I've never seen her hold a book/paper, so she can't read. Her only activity is watching TV. She told me after strumming the harp after I placed it on her chest, "If I had one of these, I'd never watch TV again." She was able to strum the harp with her fingers with very little arm movement. Then visited Irma again. When I walked in her door, she said "Did you bring it again???!!!" She didn't think she could play it (had forgotten she did it on Monday) but when she started strumming it with wide grin that never left, she asked me to go find some nurses and aides who would come and hear her play. When I said that Irma was playing my harp and "wants some of you to come and hear her play", this nurse looked at me like I was reporting a miracle since Irma doesn't use her hands/arms. She walked down the hall with me, 2 aides followed to see this miracle, too. They all stood around her bed as Irma played and were in awe.
Lucille – Rock Island, IL
03/07/2018
17 of 17 customers found this helpful.
"the song is about water"
Today I introduced the Reverie Harp to a hospice patient. This 91-year-old hospice patient has thoroughly enjoyed music therapy sessions. Today he had the opportunity to actually play the harp himself. I placed the Reverie Harp across his chest as he sat up in his hospital bed. At first he slowly and deliberately plucked the strings, mostly low notes. Then he strummed to create soothing chords. He continued to intently focus on the instrument, moving his stiff hands gently across the strings. When he finally stopped, he said through misted eyes, "the song is about water. The water was so beautiful there in Pearl Harbor. I had to keep my head above water. I lost so many friends that day. The water was so beautiful and this song is about that water.
Barb, Vashon Island, WA
03/07/2018
16 of 17 customers found this helpful.
Rewarded with a huge smile from Granny!
I took my harp to the nursing home where Granny was confined for three months as she recovered from a broken leg with multiple fracture. There was an 86 year old lady there who couldn't see, hear or speak. I placed my harp on the table in front of her where she was waiting for her food to be served. I placed her hand on the strings of the harp and allowed her to become familiar with it. There was little expression on her face. I then put the pick in her hand and helped her strum the strings. Still little expression on her face. I then took the harp and placed it against her chest, face, jaw bone and ear. I strumed the strings and was rewarded with a huge smile! I then placed the pick in her hand and helped her to strum the strings. She began to smile so very big and to utter something like AAAwwwww. As she kept on strumming the strings, she began to look around to try to find me, all the time smiling so big and saying AaWW, Aweee. No one will ever know for sure, but might this have been the first time she had expirenced Music as we know it????? The expirence was awesome!!!!!!!!!!!!
Fred -- Conley, GA
03/07/2018
15 of 15 customers found this helpful.
Noise and busyness falls away
I wanted to tell you how my friendship with the Reverie Harp is growing. I haven't yet taken her to the hospital where I play because I want to know her better, but I have played her for individuals in my home and theirs, and the amazement has been universal. Most of all, on the evenings when I have played my large harp at the hospital for several hours, I curl up in a comfortable chair and play the Reverie for myself. All the hospital noise and busyness falls away, and I can return to the still place where I need to go frequently if I am to have music worth giving anyone. For the most gentle tone, I use the original Reverie tuning. I have tried soft rubber "picks", and the rubber finger protectors I get from a sewing supply house, but my favorite sound comes from plain fingers on the strings. The best relaxation comes from a balance of note groups and pauses for the harp's full resonance. Improvised and discovered tunes with slow arpeggios across the strings are deeply soothing. Although the Reverie Harp can be played by people of all ages and musical backgrounds, it is no toy instrument or substitute for "real music." Each time I play her, the sound both soothes and amazes me, as if someone else were playing for my relaxation. My fingers find new melodies and harmonies whenever they touch the strings. This is a wonderful new version of the ancient psaltery, deep and harmonious. Thank you and all who worked on her development.
Elizabeth Hazen, Vermont
03/07/2018
10 of 11 customers found this helpful.
Beautiful Relaxation Tool
I've received my Reverie Harp. What a beautiful relaxation tool to add to my business, Healing Sounds Harpistry! The simplicity and ease of playing evoke such gentle, beautiful sounds, taking one out of left brain thinking and judgment that is associated with musical performance and instead to a state of relaxation for not only anyone for which the Harp is being played, but for the player as well. The shape, weight and overall design of the Reverie Harp are such inviting features that call to people to come pick up the Reverie Harp and begin. The customer service from Matt at Musicmakers was fantastic; it was wonderful to feel the attention and dedication to this purchase as if I were the only Musicmakers' customer, which we know is not the case for this wonderful company. Thank you for the perfect transaction, fast shipping and beautiful creation.
Cindy Curry
06/08/2017
Verified Buyer
13 of 13 customers found this helpful.