Reverie 2 - Economy Model
This Musicmakers Economy Reverie 2 is a music therapy instrument designed to be played by everyone regardless of musical skill and produces soothing music, healing vibrations, and lightweight portability. This instrument delivers special experiences to all who play it.
To make Reverie Harps accessible to more people, we are pleased to offer a more economical model. The tuning is the same as the original model, the soundboard is made of laminated birch instead of solid mahogany, the strings are attached differently at the bottom, and the entire instrument has a red mahogany stain. This model features our "slimmer" shape.
What's Included:
(1) Economy Reverie Harp 2
(1) Gig Bag
(1) Tuning Wrench
(1) Tuning Chart


Owner's Manual
Reverie 2 - Economy Model
| | |
| --- | --- |
| Item# | rev2fin |
| Strings | 22 loop-end wire |
| Tuning | C Pentatonic Reverie Tuning |
| Weight | 4 pounds |
| Size | 20" long, 12.5" wide |
| Soundboard | Laminated Birch |
| Frame | Poplar |
| Warranty | Musicmakers Warranty |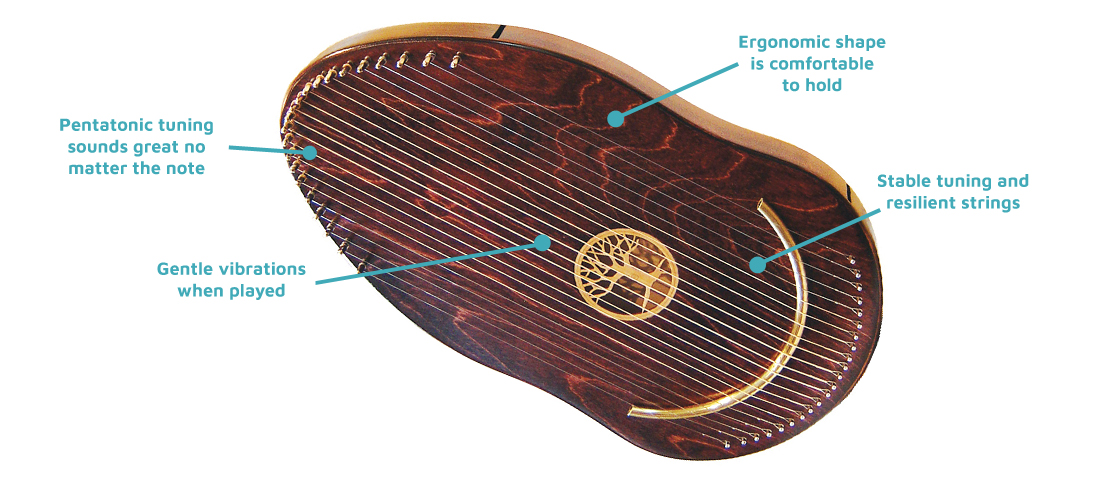 Reverie Harp
Want to read more about the Reverie Harp? We wrote lots of great content for first-time owners to get the most out of their music therapy instrument.
Beautiful Harp!
I'm delighted with my new Reverie Harp. I first learned about it from a friend who has one. I was immediately drawn to it and when she handed it to me to play I did not want to put it down! The sound is delicately beautiful and the Harp itself is a work of art. The vibrations you can feel while holding and playing it are powerful and healing . I can't wait to begin using it in my sound healing practice in addition to having fun with it myself. The harp comes with a lovely padded gig bag and a tuning wrench as well. Although I've never tuned a stringed instrument, I was able to tune with a little patience and practice. The creator of the Reverie harp has an amazing video on You Tube that to me was very easy to understand and helpful in learning the tuning process https://www.youtube.com/watch?v=VBjWdbSuyVI MusicMakers were lovely to work with too. I'd highly recommend the Classic Reverie Harp and Muic Makers!!
Sarah Gallant
10/23/2023
Verified Buyer
Surpasses all expectations
My lovely Reverie harp made the trip to Canada very quickly, and I could play it as soon as it was unpacked (mostly still in tune, with only a few very slight changes needed to bring it up to snuff.) My husband and I played with it for a few minutes, then tried some of the song sheets. Great fun. However, I wanted the Lullaby tuning so I quickly cut out the tuning template and made the few changes needed. Oh, wow! Now I have the basic C major chords to play on one half, and also the F/D minor on the other half of the harp. This gives me so many options for rich sounds. I consider myself a competent musician, but just strumming and picking at random is so liberating. My husband, who has no musical skills at all, noodled around for 15 minutes or so, then passed it to me. I strummed, I plucked, I did both together. When I finally paused, I looked over to see the man just rousing from a nap. "What did you stop for?" he asked. I looked at the clock and saw that nearly an hour and a half had gone by. The music from this beautiful instrument really has the power to transport you to a very peaceful place. I am so very glad I got this Reverie Harp. She joins my Sonnet lap harp as a prized posession. Thank you so much for these lovely, lovely instruments.
Merrie Howe
05/25/2023
Verified Buyer
Thank you!
MucsicMakers has excellent customer service! I am still learning how to play it, but it sounds beautiful! It's a lovely addition to all of my sound healing instruments that I use in my classes and with my clients.
MT
12/24/2022
Verified Buyer
Even better than I imagined
I just began playing the harp this year, starting with a Ballad kit that I built, and a Sonnet lap harp on the way. Loyal MusicMakers customer here! I loved the sound of the Reverie and thought it would be fun to noodle around with. Honestly I wasn't sure how much I'd enjoy playing it versus sitting back and listening to recordings. If you have this same hesitation, I can assure you, it's even BETTER playing it and hearing it in person. Since it was delivered I've hardly put it down. The sound and resonance this little harp produces is incredible, and feeling it vibrate in your body and soul wipes away stress. I might actually bring it to the office! I went with the Reverie 2 Deluxe and I love it. Thanks MusicMakers!
5 of 5 customers found this helpful.
Playing With the Angels
A musician friend introduced me to the Reverie harp and suggested that I just start playing. There's no experience needed. Before I knew it, 15 minutes had passed. I felt as if I had been transported into the clouds and was playing unimaginably beautiful music with the angels. I have never played a harp before, and yet, I made music. The harp is exquisitely made and the skill and care that went into making the harp is palpable. The day after I played my friend's harp, I purchased one for myself. It is every bit as glorious as my friend's harp and I know I will be playing it as often as I can I find myself at a loss for words that adequately describe the magic of the Reverie harp. I can say for sure that its music is enthralling and you will be thrilled to have one.
Melodie G.
09/15/2021
Verified Buyer
3 of 3 customers found this helpful.
Beautiful Resonance
A music therapist recommended the music makers web site. I wanted a portable harp to play at the conclusion of a yoga practice. The harp's resonant sound is beautiful and the woodwork is excellent.
Cheryl J
08/06/2021
Verified Buyer
3 of 3 customers found this helpful.
Beautiful and Extremely Well-Made
This harp is a work of art. It is rare to find such high quality workmanship - and an absolute joy when I do. The sound is strong and clear, and has a magical quality (as is the case with harps, but this one in particular). All in all, if I could afford a bigger harp from Musicmakers, I wouldn't hesitate. Their work is beyond compare!
K di Passero
07/11/2021
Verified Buyer
2 of 2 customers found this helpful.
Reverie - a wonderful addition to my harp family
Okay, I bought a Reverie "just because". I play both pedal and lever harp. I practice hard and I love each in their own way. But, sometimes, I just want to mindlessly "noodle". The Reverie allows that - no matter what strings you touch, the sound is lovely. The shape is comfortable and the workmanship exquisite. I have used this harp to play for a dying collie and he responded with calming respirations until he passed. I took this harp to a friend with severe PTSD and saw him smile and relax for the first time in days. I also took it to a friend who was hospitalized after surgery and he told me it was "his lifeline" and how much he enjoyed serenading the nurses. This is a wonderful little harp! It is convenient to carry on a trip to the park or beach, easy to tune and the carry bag is substantial. I love this harp for peaceful relaxation in the hammock, sitting on a bench in the park (you may draw admirers!) and for any time you want harp music that you can just play gently and calmly and without worrying about your timing or how hard that piece of music is to practice!
Peggy H
07/11/2021
Verified Buyer
2 of 2 customers found this helpful.
First Harp
I love my harp. The sound is great to harmonize me after a long day at work or just to dream :-)) It is easy to play and the instrument is very beautiful. :-)
Jeannine E.
05/20/2021
Verified Buyer
2 of 2 customers found this helpful.
Reverie Harp
Musicmakers is the best.. Have had a couple Reverie Harps. Always fast delivery. Always the most BEAUTIFUL instrument.
Judy Knudsen
04/17/2021
Verified Buyer
2 of 2 customers found this helpful.
Reverie Vivid, Emerald Isle Green - I am thrilled!!!!
What incredible sound! It just reverberates for such a long length of time. At first, I wondered if this was worth the money, for someone like me, who just wants to pick it up and creatively play for fun and relaxation. I am not a musician, but I am very creative. The answer is astoundingly, YES! I make up my music as I go, and through experimentation you can find a lot that sounds awesome on this sweet, portable, little gem of an instrument. It is most definitely staying with me for life. I really thought I would run out of ways to play it, but I keep finding more and more ways. The sound and beauty of the wood on the vivid is sooo worth it, it has such depth the way it has been finished. I recognize how much that was put into the shape of it, the design, and the sound. Even more important than that is the benefit one gets from it: it is relaxing, calming, and I find it changes my breathing pattern to such a relaxed state. I know it was created with that in mind, along with music therapy, but I wanted to just play it and enjoy it for me. It's really easy to fall in love with the sound. It's a bit of a blessing and a gift, to be honest, and these things can't be judged by simply looking at it online: playing with such a beautiful sounding instrument that delivers peace and serenity right back to you in the form of deep relaxation. Thank you to everyone at Music Makers. I have such appreciation for what you have created. I crave to sit and play it every night. Jen, thanks for your kindless as well. This a great company, great customer service, and the Reverie, well... I am in love with it. 💚
Shelly C
04/15/2021
Verified Buyer
5 of 5 customers found this helpful.
Emerald Isle Green
Arp o kadar ustaca ve güzel işçilikle yapılmış ki bakıp kalıyor insan. Zümrüt yeşiline ve pürüzsüz yapısına bayıldım. İyi ki vivid renk seçmişim diyorum. Özenle hazırlanmış. Şimdi heyecanla farklı akorları deniyorum. Sevgiyle... Çok teşekkürler.
Umut
12/19/2020
Verified Buyer
My first harp
It is my first harp. I am very impressed by the beauty of the instrument. I saw it had just been crafted. It is art by itself. Its smell, its shape, it is very sensual. I love touching it. Playing it makes me relax quite instantly. As a contemplative person, I am like in a bubble where nothing else exists but the sound and vibration. I better understand why it is not meant first for performance nor playing songs. I see that the best to enjoy the harp is to let go and just play. It is a discovery, different each time. I like very much the idea to create something and be connected with myself through the instrument. I also appreciated the close customer service through Matt who took time to answer my questions. I am at the beginning of a journey with my precious harp :)
Élodie
11/14/2020
Verified Buyer
6 of 6 customers found this helpful.
AMAZING
I love this instrument! I've researched a lot of music therapy instruments to incorporate into my holistic health practice and by far this was the most affordable, versatile, easy to use, and approachable. As a trained musician working to incorporate sound into my therapeutic practice, I value all of these qualities in this instrument. THANK YOU for creating this amazing instrument!!!
Rob Meyer-Kukan
10/27/2020
Verified Buyer
3 of 3 customers found this helpful.
Wonderful Harp
I have no formal music training, but I can make beautiful sounds with this harp. Lots of fun just seeing what you can do with it and very relaxing just to strum and feel the vibrations against your body. Wonderful therapeutic value in this insane world.
Steve
07/07/2020
Verified Buyer
4 of 4 customers found this helpful.
Reverie Harp Review
I am soo happy with my Reverie Harp. It's tone is soo beautiful. I'm a harp player and this lap lyre type harp is soo easy to play. Their customer service is wonderful. Thank you music Makers
5 of 5 customers found this helpful.
Best Purchase Ever!
I absolutely LOVE my harp! It is the most wonderful thing I have ever purchased. It doesn't matter which strings I touch, the sound is always joyful. 💗💗💗 Thank you for creating such a beautiful instrument. 🙏🏻
Pam
05/20/2020
Verified Buyer
2 of 2 customers found this helpful.
My SECOND REVERIE HARP!
I bought my first Reverie Harp in Sedona, AZ. Fell absolutely in love with it. I must add I play no strings instruments, only drums. I picked it up and just started messing around with it in the store! I bought it instantly. I played it so much that my fingers got blisters. I have no idea what I am doing on that thing but people keep telling my I sound like I have been playing forever! One person even wanted to book me for a wedding!! Well, sadly, it got left in Mammoth on a trip and I couldn't recover it. Heart broken. I bought my second one from Music Makers just last week and received it a few days ago. My heart is full again, and as a non-musician I can just say that the sounds bring me joy beyond words! The quality of the instrument is superior. THANK YOU for bringing my harp back home! Octavia
Octavia Lindlahr
05/10/2020
4 of 4 customers found this helpful.
Reverie 2 harp music magic
The reverie 2 harp is a well made instrument. Gorgeous solid wood body. The sounds that vibrate from it are pleasant and peaceful. Comes in a nice carry case, included is a tuning instrument and information about the harp, music sheets to get you started. Children and grown ups in the house enjoy playing it, even just to tinker. Met all my expectations.
2 of 2 customers found this helpful.
Five Stars Not Enough!
Friendly people, fantastic service, beautiful harp. Now if only I can learn to play it.
Grandpa Woodworker
04/27/2020
Verified Buyer
2 of 2 customers found this helpful.
so soothing
It is very well made, beautiful. I love to play it to relax me when I get up tight. No need for training, it just sounds goo any way you play.
Lucille Ashcroft
04/22/2020
Verified Buyer
1 of 1 customers found this helpful.
Every generation falls in love with the Reverie!
I received my Reverie Harp a little over a month ago and I find it so relaxing and soothing. I asked my 16-year old grandson to try it but he was "too busy with his computer games". Then a little later, after hearing me play it, he decided he would like to try it "for a minute." So, he sat down on the floor at my feet and started playing it -- and kept playing it. Eventually, he looked up at me and said "I didn't realize I would like playing this so much!" This was really high praise! My 2 and 4 year old great-grandchildren also love it! Thank you, MusicMakers!
Elizabeth
03/28/2020
Verified Buyer
5 of 5 customers found this helpful.
New Devotee!
Received my absolutely gorgeous Reverie Deluxe yesterday and I am delighted. I am a harpist and very used to tuning strings yet somehow managed to pop the very first string that I tuned yesterday. Yep, wrong tuning pin being turned. Ack, what a rookie mistake that I would have never made on my harp! Anyway, thanks to your quick response, the new strings I ordered last evening are already on the way. As a musician and a long time expressive arts therapist who specializes in hospice care, I cannot thank you enough for your creativity and craftsmanship. You have a new devotee! Be well and please keep creating!!
5 of 5 customers found this helpful.
Reverie Harp
Thank you for all the care you have taken in making and shipping this wonderful musical instrument, which takes you on such a gentle journey.
12/03/2019
Verified Buyer
6 of 6 customers found this helpful.
Sweet Instrument of Peace
I play the lever harp and volunteer playing for hospice. What I like about the Reverie is that I leave my paper training behind and just play. It is freeing and lovely. I have played it for my acupuncture patients and one is hoping to buy one! The bell like tones are lovely. You can gliss and it doesn't sound like a piano. The small size and light weight make it very easy to carry about. Thumbs up!
Karen
10/09/2019
Verified Buyer
9 of 10 customers found this helpful.
Reverie Harp
I love my R.H. It's so easy to make lovely music on it and it's a real piece of art, besides.
Donald Graff
06/21/2019
Verified Buyer
5 of 5 customers found this helpful.
Rêverie Harpe
Bonjour. J'ai attendu, avec impatience, que ma harpe soit livrée. Quel ravissement lorsque j'en ai joué ! Elle était très bien accordée et le son et la sonorité, la résonance m'ont enchanté ! Je suis très satisfait et très content de mon achat! Merci MusicMakers !
Daniel
05/03/2019
Verified Buyer
9 of 9 customers found this helpful.
Beautiful music
I love my new Reverie Harp. I have a very stressful job, my anxiety is always high. I can't believe how relaxed I feel once I start playing. This is the best thing that I have done for myself in a long time.
Agnes Barbosa
04/22/2019
Verified Buyer
11 of 11 customers found this helpful.
Beautiful instrument
I had played a friend's Reverie harp and knew I had to get my own. I'm over the moon with my investment. Thanks to Music Makers for shipping it out in time for me to take it back to the U.K. with me, very happy customer.
Louise Shiels
02/01/2019
Verified Buyer
Lovely
This is such a lovely instrument. It is beautifully made and the sound is heavenly. Today my grandson played it and I played along on my harp. We made beautiful music.
Stacie
01/13/2019
Verified Buyer
great product
I purchased this for my own use, for relaxation and creative release. I absolutely love this. The workmanship is supreme and the concept exceptional. I've used it several times daily since receiving it a week ago. Would highly recommend this to others.
Kathy
10/11/2018
Verified Buyer
A Therapeutic Musician's Dream
The Reverie Harp is gorgeous both in sound and appearance! I use it regularly in End of Life Care, with patients and family members. It allows great interaction. One of my patients' siblings wanted to sing for his brother one last time at his bedside, but was overwhelmed by emotions and felt frustrated. I gave him the Reverie Harp and we made music together: he was so happy to be able to express his feelings in music this way!
Silvia
08/21/2018
Verified Buyer
Beautiful Instrument
I am very pleased with the Reverie 2 Deluxe Harp. I purchased it as a gift for my elderly mother, who used to play folk harp, Autoharp, and piano, but is now unable to. The Reverie Harp should be easy enough for her to strum and pluck, even with her tremors. I can't wait for her to try it out!
Cheryl
07/17/2018
Verified Buyer
Love this harp!
I have been wanting to purchase this harp for years and finally did. It was well worth waiting for and I wished I had done it earlier. What a beautiful instrument. I love to play it and feel the stress melt away. I highly recommend this to everyone.
Sabra
05/20/2018
Verified Buyer
I Love My Reverie Harp
I received my Reverie Harp a week ago, and have been mesmerized by it since! It is everything you described it to be, and more .... truly a thing of beauty in every way. It's sweet and gentle sound flows almost effortlessly, and it is such a joy to play. No matter what stresses the day has brought, playing and hearing my harp soothes them away. Thank you for creating the Reverie Harp, it truly is an instrument of healing.
Bonnie Erickson
05/14/2018
Verified Buyer
Reverie Harp for Sound Meditation and Restorative Yoga
I am very excited to use and play with my new harp! The customer service was excellent, and I bugged them with several inquiries before purchasing. The tone is rich and the vibrations sustained... I love it!
Sandy Eimers, yoga therapist
05/02/2018
Verified Buyer
1 of 1 customers found this helpful.
Lovely sound!
This instrument is very well made, looks lovely, and sounds divine. I got it for my mother who has dementia and some hearing loss, and she enjoys strumming it, and can hear it well without playing loudly. I am totally pleased with the Reverie Harp - so pleased I had a hard time parting with it when I took it to my Mom! While it was at my house I could not walk through the room without strumming it at least once or sitting down to play with it.
Randi Kuhne
04/16/2018
Verified Buyer
1 of 1 customers found this helpful.
My heart overflows with joy
Hi Matt, It finally arrived! I'm very happy, my heart overflows with joy and peace! When I played the Reverie Harp for the first time I felt a deep love in my heart. It was wonderful. It is very special, very beautiful! I'm very happy!
Ana Paula Happy, happy, happy!!!
03/07/2018
17 of 17 customers found this helpful.
this instrument will fill a void
My thanks for developing such a beautiful therapeutic healing harp, the "Reverie Harp". Jackie is intrigued by the harmony and this instrument will fill a void where she has lost both her piano and guitar skills. As I sit at the computer, I can hear her playing, wonderful.
14 of 15 customers found this helpful.
My veggies grew like mad
Thank you for making this beautiful harp! It's just awesome. I played my harp to my garden and I kid you not - my cucumbers and other vegis grew like mad. My family thought I went to the market. Thank you again for your wonderful skills. The best of luck.
12 of 13 customers found this helpful.
Everyone in my house plays it!
Hi Matt, I ordered the therapy harp and I love it! Everyone in my house plays it and I have six roommates! Very relaxing and beautiful! I'm hoping to get one of your mountain dulcimers next! Have a beautiful day! <3
11 of 11 customers found this helpful.
Many doors of healing opportunity are opening
I played the Reverie Harp at a gathering a couple of weeks ago, and people were mesmerized. One gal who plays a regular harp told me it sounds like I have been playing for years and years. I then took it to a friend of mine and played for her and her husband, the strumming and plucking and then the dulcimer hammers - they were awed. This is the most incredible instrument ever. When I was first told I would be playing a stringed instrument, I had a dream. In my dream, I found what now as I know it appears to be a dulcimer, but it was strummed and it was the most beautiful sound I had ever heard. I thought, God, is there really an instrument that sounds that beautiful? So I researched the internet and the very closest was a 36 string harp, but yet, it was still not the sound I had heard in my dream. So I typed in harp kits one day and came to the Musicmaker's website. I saw this Reverie Harp and listened to the sound bites. It was the exact sound I had heard in my dream. I teetered to pay bills or to get the harp when a voice came very loud and clear into my head "JUST GET IT!"...At which point I then ordered the Harp. It is the most amazing sounding instrument anyone could ever play. No special musical talent is needed, just a desire to play. Thank you for creating this most wonderful instrument. I know many doors of healing opportunity are opening to play for people who need to be touched.
Pamela - Almond, WI
03/07/2018
20 of 22 customers found this helpful.
We all felt comforted by its lovely sounds.
My mother had a stroke in Mesa, AZ in December. My son and I flew down there on Dec. 17, and were able to support my Dad for the following week, as her condition failed. My husband and our other two children arrived on Friday, and Mom died on Saturday, Dec. 22. We all were with her in the room, and feel blessed that we had the honor to be with her. It was life-changing or my children (ages 23, 21, 18) Just two weeks before she died, I became aware of a very small harp-like instrument that was made by Musicmakers in Stillwater, MN. It is called the Reverie Harp. I had it shipped to Mesa, on the Wednesday before she died, and she was able to strum it on her lap, for a couple of days, until she became too weak to do so. Music was very important in her life, and she was so proud that I had taken up the harp...and was studying therapeutic music. Those of us in her hospital room would strum the little harp and just make pleasant sounds in the midst of a hospital setting. The harp was on her lap when she died, and we all felt comforted by its lovely sounds.
Kathy, Jackson, MN
03/07/2018
22 of 22 customers found this helpful.
Irma played and we were in awe
Background on Irma: Irma is in a nursing home.. She is in her 80's and is completely bed ridden. She has no hips and is in extreme pain with any movement. She can't change position without help - lies on her back in bed 24/7. She wishes she could die. Her 92 year old husband visits daily. Her hands are by her sides. I've never seen her hold a book/paper, so she can't read. Her only activity is watching TV. She told me after strumming the harp after I placed it on her chest, "If I had one of these, I'd never watch TV again." She was able to strum the harp with her fingers with very little arm movement. Then visited Irma again. When I walked in her door, she said "Did you bring it again???!!!" She didn't think she could play it (had forgotten she did it on Monday) but when she started strumming it with wide grin that never left, she asked me to go find some nurses and aides who would come and hear her play. When I said that Irma was playing my harp and "wants some of you to come and hear her play", this nurse looked at me like I was reporting a miracle since Irma doesn't use her hands/arms. She walked down the hall with me, 2 aides followed to see this miracle, too. They all stood around her bed as Irma played and were in awe.
Lucille – Rock Island, IL
03/07/2018
17 of 17 customers found this helpful.
"the song is about water"
Today I introduced the Reverie Harp to a hospice patient. This 91-year-old hospice patient has thoroughly enjoyed music therapy sessions. Today he had the opportunity to actually play the harp himself. I placed the Reverie Harp across his chest as he sat up in his hospital bed. At first he slowly and deliberately plucked the strings, mostly low notes. Then he strummed to create soothing chords. He continued to intently focus on the instrument, moving his stiff hands gently across the strings. When he finally stopped, he said through misted eyes, "the song is about water. The water was so beautiful there in Pearl Harbor. I had to keep my head above water. I lost so many friends that day. The water was so beautiful and this song is about that water.
Barb, Vashon Island, WA
03/07/2018
16 of 17 customers found this helpful.
Rewarded with a huge smile from Granny!
I took my harp to the nursing home where Granny was confined for three months as she recovered from a broken leg with multiple fracture. There was an 86 year old lady there who couldn't see, hear or speak. I placed my harp on the table in front of her where she was waiting for her food to be served. I placed her hand on the strings of the harp and allowed her to become familiar with it. There was little expression on her face. I then put the pick in her hand and helped her strum the strings. Still little expression on her face. I then took the harp and placed it against her chest, face, jaw bone and ear. I strumed the strings and was rewarded with a huge smile! I then placed the pick in her hand and helped her to strum the strings. She began to smile so very big and to utter something like AAAwwwww. As she kept on strumming the strings, she began to look around to try to find me, all the time smiling so big and saying AaWW, Aweee. No one will ever know for sure, but might this have been the first time she had expirenced Music as we know it????? The expirence was awesome!!!!!!!!!!!!
Fred -- Conley, GA
03/07/2018
15 of 15 customers found this helpful.
Noise and busyness falls away
I wanted to tell you how my friendship with the Reverie Harp is growing. I haven't yet taken her to the hospital where I play because I want to know her better, but I have played her for individuals in my home and theirs, and the amazement has been universal. Most of all, on the evenings when I have played my large harp at the hospital for several hours, I curl up in a comfortable chair and play the Reverie for myself. All the hospital noise and busyness falls away, and I can return to the still place where I need to go frequently if I am to have music worth giving anyone. For the most gentle tone, I use the original Reverie tuning. I have tried soft rubber "picks", and the rubber finger protectors I get from a sewing supply house, but my favorite sound comes from plain fingers on the strings. The best relaxation comes from a balance of note groups and pauses for the harp's full resonance. Improvised and discovered tunes with slow arpeggios across the strings are deeply soothing. Although the Reverie Harp can be played by people of all ages and musical backgrounds, it is no toy instrument or substitute for "real music." Each time I play her, the sound both soothes and amazes me, as if someone else were playing for my relaxation. My fingers find new melodies and harmonies whenever they touch the strings. This is a wonderful new version of the ancient psaltery, deep and harmonious. Thank you and all who worked on her development.
Elizabeth Hazen, Vermont
03/07/2018
10 of 11 customers found this helpful.
The time I shared with my son .....was a gift!!!!
I wanted to tell you that the harp arrived safely at my home. It arrived last Friday morning. I want to tell you a story that I think will touch your heart. It is about healing, music and connection. I heard the doorbell ring when I was still in bed. I had the flu a few days last week and wasn't feeling well so I had slept in a bit. When I did get up, I found the box from you at the door. I brought it inside and told myself I would open it later so I sat it by my desk in my den. I was busy doing routine things around my home and waiting for my son to come for a visit. He is a 20 year old college student at UW River Falls and a most amazing young man. He was diagnosed with Asbergers Syndrome/PDD and Tourette Syndrome when he was 4. We worked very hard with our local school system and he had a "pushy" mother who never took "I can't" for an answer. He does extremely well, but still has issues that face every person who suffers from this type of disorder. I told you this for a reason and this is what makes the day the harp came even more special. I was resting in my recliner when he came and he spotted the box. He asked what was in it and I explained the story to him. He asked if he could open it and I told him he could. I moved to the carpet and we sat together and opened the box. Both of us gasped when we saw the harp! At the same time we said "Isnt that beautiful"......."look at the tree in the middle, wonder if it is a tree of life". Then he strummed the strings and we both melted. What a beautiful sound!!! We sat on the floor for 1 hour. He just kept saying how soothing the sound was and how he thought it was a really neat thing. We talked about the sounds and the vibrations. It was wonderful to see him interact with the sounds of each string and then the sounds of each strumming of the strings. Then I took it and we sat a bit longer as I enjoyed making my special sounds on it. He asked if I knew how to play it beyond just making the soothing sounds and told me he would like to learn to play it. SO..........this harp you sent for me to try has already done 2 things. It made a special young man sit by his mother and share some special time. It soothed both of us that day and I have enjoyed it each day after. Sometimes I just sit and pluck each string and love the sound. It is a beautiful piece of equipment and that time I shared with my son.............the day the harp came.....was a gift!!!! I am moved by what happened from the time we opened the box. Some things are meant to be. Your idea for music therapy is a winner!!!
Cyndy Moore
03/07/2018
Verified Buyer
8 of 8 customers found this helpful.
Skeptics who said "I can't" tried it and were amazed
What a great day! Matt Edwards loaned me a Reverie Harp and I shared it at two Presbyterian Homes. Introduced it to residents in Hospice Care, Memory Care and Assisted Living. The beauty of the Reverie Harp is that you don't need to practice to make beautiful sounds. Anyone can do it, even me. Without fail, everyone (staff and residents alike) who heard and/or played it smiled. Even the skeptics who said: "I can't", tried it and were amazed and delighted. Residents who routinely show little response to stimuli, perked up, opened their eyes and smiled. What a joy to behold! One terminally ill lady literally lit up with happiness as she played it! She enjoyed the music thoroughly – a real bright spot in her day. A man and wife I especially enjoy sat down and played it together. They are so in love and such gentle people; the joy they both showed on their faces made the whole day worthwhile. I'm very excited about the Reverie Harp. The harp satisfies my need to "make music" and is an excellent fit for what I want to accomplish as a volunteer. What a treasure and a gift! Thank you to Peter for the concept, and to Jerry and Matt for the fruition of a wonderful idea.
Alice, Woodbury, MN
03/07/2018
Verified Buyer
4 of 4 customers found this helpful.
Every child interacted with it
Thank you so much for allowing us to use this beautiful harp. Every child in my program interacted with the harp - and these are children who resist every fine motor activity! The children have a variety of disabilities - all severe. Thank you! The harp is on my district wish list!
Judy North Hudson, WI
03/07/2018
Verified Buyer
2 of 2 customers found this helpful.
Her pain had diminished
I was asked to play for a woman that had just returned home from a shoulder surgery. When I arrived, she was in pain. Her arm was cold and her hand was clenched. I asked if I could place the Reverie on her chest and shoulder area so that she could feel the vibrations as I played it for her. (She was a friend of mine and so I could ask this of her.) As I played, she closed her eyes and after a while her hand relaxed and opened and the color returned to it. When I finished after about 30 minutes, she said her pain had diminished and her whole arm felt warm and better. She exclaimed..."better than pain pills!"
Colleen Peoria, AZ
03/07/2018
Verified Buyer
6 of 6 customers found this helpful.
Normally non-responsive patients smile, laugh, look around, and reach.
Just wanted to give you an update on the harp. I started my internship early in January. It's been 12-14 hour days, with no days off thus far. The Reverie harp has been with me every Wednesday and Thursday at Scottsdale-Osborn Skilled Nursing and Long-term care and Rehabilitation Center. It has also accompanied me to the Hospice and Memory Care units at Legacy Retirement Residence in Mesa. Without a doubt, the harp has been the single most effective means of eliciting a response from the low functioning clients at Scottsdale Osborn. The nursing and activities' staff have been amazed at seeing patients who have for the most part been in a vegetative state, smile, laugh, look around, and reach when the harp is placed on their bodies. Likewise for those who are higher-functioning with sensory needs, and for a multitude of others who find much joy and feel successful when playing it. My supervisor made the comment that the reverie will most likely be the most valuable instrument for my future work in music therapy. She has just been appointed head of the creative arts unit of a new hospital in Tempe. You may be hearing from her once she gets established. Karen, Gilbert, AZ I volunteer one day a week at Riverside Methodist Hospital in Columbus, OH playing my Musicmakers Studio Harp for patients and visitors. The Reverie is offered to patients (and explained to visitors) and reactions are truly amazing. I get a lot of "No, I don't know how" but tell them, if you can move your thumb you know all you need. Next I get, "That's so soothing, relaxing, the vibrations become a part of me, etc" They love it and become much less tense and grim than when I first started talking to them. It's hands on and makes them feel a part of a beautiful sound. Smiles and thanks are good for me as well.
Dick Powell, OH
03/07/2018
Verified Buyer
1 of 1 customers found this helpful.
A merry heart doeth good like a medicine
To My Friends at Musicmakers, First, thanks to whomever chose my Reverie for me. Well done. I am a lever harp player and a nurse. I have worked as an RN in hospice and have volunteered the harp music for hospice patients and nursing homes quite a bit. I usually tune my harp pentatonically and encourage people to play it. I am limited when it comes to people in bed. NOT anymore! I want to share a great story with you. My current job is in an inpatient rehabilitation unit. The patients there range from orthopedic to trauma to brain injuries and strokes. They have three hours of therapy a day and are very tired at day end. I had taken my Celtic harp on a Friday night and played them some lullabies to drift off to sleep and they seemed to have really liked it. I told them I had ordered the Reverie and tried to explain it to them. When it came, my husband brought it unopened to me at work. We gathered up a group of three patients that were especially interested. I opened it in front of them and reminded them that we were all equal because I had never played one or even seen one in person either! (Thanks to whomever tunes all of these before they go out!) I asked who wanted the first turn and a man, 68 years old who had a severe stroke wanted to go first. His left side was flaccid. I helped him rest it against himself and used his limp left hand to brace the bottom of it. He raised his right hand and began to excitedly strum it like a banjo and sang … "Who let the dogs out … Whoo Whoo Whoo … Who let the dogs out …Whoo Whoo Whoo" At the top of his lungs!! Never in a million years would I have guessed that would happen! The other two patients, women and the physical and occupational therapist and myself were totally helpless laughing and singing along! It was a wonderful, spontaneous moment. "A merry heart doeth good like a medicine." We all got a good dose. Thank you all very much. I am and will be forever grateful for such a bridge to people. A healing tool.
Leslie McConnell RN
03/05/2018
Verified Buyer
2 of 2 customers found this helpful.
Calming and centering for patients
We were able to purchase a used reverie harp last year for our music therapists in Allina Hospice. They (4) are thrilled with it for many reasons: calming and centering for patients, resonant and tactfully stimulating to dementia patients, a gentle way to awaken people they come to visit in the nursing home, a stategy for breathing entrainment when people are struggling for breath, a soothing instrument which family can play as they sit vigil. For all of these reasons we hope to have more harps! We would like to buy 3!
Judy Young, Allina Hospice, St. Paul, MN
03/05/2018
Verified Buyer
1 of 1 customers found this helpful.
Faces light up with delight!
Dear Matt, Here are a couple stories: A severely disabled woman with dementia and Parkinson's showed immediate interest in the harp after I strummed it a few times for her. Despite her tremor, she steadied her hand enough to play it. Her face lit up with delight as she realized she was making the harmonious sounds! There was a spoon on her table, and I handed it to her. This really excited her. I stood by while she experimented with the sound for another five minutes. It made her day, a happy surprise and experience that gave her the feeling of making things happen in her world of physical limitation. Next story, a middle-aged man dying of MS had been a rock guitarist and enjoyed the beauty of the instrument. Like many of the dying, he had begun to see visions of another world within this one. Looking at the lovely carving of the tree at the center hole of the harp, he murmured, Very pretty. I can see the tree, and the deer with antlers behind it, and the doe… Thank you for this beautiful expression of life's loveliness for the disabled, elderly and dying to enjoy! You have been inspired by the angels. Blessings.
Rebekah Shardy, Manager of Volunteers
03/05/2018
Verified Buyer
2 of 3 customers found this helpful.
Patients love it!
I have been using the Reverie Harp in my work at the cancer center at Dartmouth Hitchcock Medical Center in Lebanon, NH. It has been VERY well received both for the beauty of the instrument as well as the beauty of the sound. It is such a joy to offer the harp to patients and see their reactions. I love the harp.
Margaret Stephens, Certified Harp Practitioner
03/05/2018
Verified Buyer
We are just DELIGHTED
This is just a note that the chaplains, staff and management of my company, Springpoint Senior Living are DELIGHTED with the reverie harp. At least two of our chaplains are going to order one for use in the senior adult Communities that they serve. Thanks for sharing such a great instrument.
Rev. Terry Thomas Primer D. Min Chaplain of Monroe Village
03/05/2018
Verified Buyer
A marked positive change in our patient
Our Hospice purchased a Harp recently. We have been taking it on Hospice volunteer visits and have an amazing video of a one of our Hospice patients playing the harp and singing with it. This gentleman is in a Nursing Home and the staff at the home report a marked positive change in him since. Just wanted you to know how this touched him in particular, but in taking the harp on visits we have found that many of our dementia patients seem very engaged in making music. We are so glad that we were able to purchase the reverie harp. Thank you!
Becky Pharris, Volunteer Coordinator, AseraYCare Hospice
03/05/2018
Verified Buyer
1 of 1 customers found this helpful.
Focusing my mind for Bible meditations
Hi Matt, I wanted to tell you how much I am enjoying my Reverie Harp. I was looking for an instrument that plays beautiful sound - not necessarily music. I use this for relaxation and for focusing my mind for Bible meditations. Other instruments require that you look at them, or at least think about what you are doing. I just wanted the heavenly sound and the feel of the vibrations as I hold the harp and strum or pluck the strings. The Reverie Harp is perfect! Thanks for such a beautiful instrument!
Kim
03/04/2018
Verified Buyer
An immediate surge of joy
With your gift of the Reverie Harp, a new light has been added to my life. Three years ago, during my last MS exacerbation, I lost much more than my ability to play the violin. Those first 12 months were my darkest days. Between not being able to play the violin and an MS­-forced retirement after more than 30 years of teaching music to children in the classroom, I was becoming very depressed. At the end of my first year of recovery I began playing violin again with my youngest private students. I couldn't play very well but I felt safe with them; they appreciated anything I did - they were too inexperienced to notice my weak technique and this gave me confidence to try to play again. During the second year of recovery I was asked to play for 2 funerals and a wedding. All these events were for very special relatives so I wouldn't say no. These events pushed me into working harder and, after a lot of practice and perseverance, I was able to play for these large family events. At the beginning of my 3rd year of recovery (August 2008) during our trip to visit you and Marilyn and the boys, I was immediately drawn to the reverie harp. When I heard the instrument that you made for Marilyn I knew that the reverie harp was in some way what I needed. I can only imagine the amount of intense focus and concentration you must have placed on building that Reverie harp to have it ready in time for Marilyn and the boys to present to me on Thanksgiving Day. Your gift of this harp has gone far beyond being a gift to me. This beautiful instrument has become a new "healing vibration" in my life. Not just for me but also for many, many of my friends and family. I have been able to learn a new way of reaching out and communicating with people. Communicating with words has never been a strength for me. I have always communicated best, from my heart, through music (voice and violin). When I lost my ability to play violin I felt very lost and alone. When I was handed the harp on Thanksgiving Day I felt an immediate surge of joy I hadn't felt in a very long time. Indeed, it has proven to be just what would bring me to the next level of my recovery. I have been playing the reverie harp at least once a week since January during meditation class. Without exception, everyone in the class has expressed appreciation for the deep state of grace that the sound from this instrument brings to them in their meditation. Another way I have been blessed by the harp has been during my visits to a local hospital - a long-term-care facility near our home here on the coast side. One of the ideas I have been thinking about for the last couple of years has been to visit patients in this hospital. Recently, I had the opportunity to do just that: the reverie harp proved to be a wonderful form of "non-verbal" communication when I played. It has proven to be especially significant for those patients who are unable to speak. It has been such a gift to me to feel joy when I look in their eyes while I play for them. I could go on, but suffice it to say that your gift has changed my life in ways I cannot express adequately in words. Indeed, you have helped this third year of recovery to be one full of grace. Words cannot express my appreciation for your wonderful gift. You are a kind and generous soul. Thank you and Love always.
Claudine
03/04/2018
Verified Buyer
2 of 2 customers found this helpful.
Dementia patient opened her eyes and smiled!
Dear Musicmakers, Our volunteers are absolutely thrilled at how it has helped them connect with our patients. The first time the harp was taken out to a patient with dementia, the volunteer came back literally glowing. It was thte first time that the patient actually opened her eyes and smiled during the visit from the volunteer. Tha6t patient is pictured in the article. The volunteer loved it so much she went to your shop and bought her own harp and has been using it for her own helaht and well being, as well as with our patients. Our patients are responding even better than we had hoped. There is nothing more wonderful than seeing a big smile on their faces when we visit with the harp. Thank you so much for this beautiful opportunity to connect with our terminally ill patients. I hope you will find our article encouraging. We appreciate you!
Paula K. Johnson, RN Hospice Manager (ADORAY Home Helath and Hospice)
03/04/2018
Verified Buyer
1 of 1 customers found this helpful.
Sounds beautiful no matter how I play it
I want you to know how thrilled I am with my Reverie Harp! I do not play a musical instrument, and I cannot read music, but my Reverie Harp sounds beautiful no matter how I play it. I have already spent hours using your music sheets and "composing" my own songs. I have just begun a ministry in my church taking communion to nursing home residents and shut-ins, and I am going to play my Reverie Harp when I visit! The instrument has a beautiful, full sound, is made of high-quality materials, and is skillfully crafted. I have had no trouble tuning it. Finally, I love holding and playing my Reverie Harp---it is a very calming and peaceful experience. Guess what is on my Christmas list? A Hognose Psaltery!
Lynn Frederick
03/04/2018
Verified Buyer
1 of 1 customers found this helpful.
Everyone who sees and hears it wants one.
If you begin receiving lots of orders for the reverie harp, it's my fault! I received mine and am using it in the West Virginia Children's Hospital as a music therapy tool. Everyone who sees and hears it wants one. It is wonderfully and beautifully made!! Thank you.
Chaplain Anne Owens, WVU Hospital & Children's Hospital Chaplain: Spiritual Care and Education
03/04/2018
Verified Buyer
Rosettes are outstanding!
Very happy with my new Reverie Harp. Still finding out how to play. Love the tones! The rosettes are outstanding. I will be buying more when I decide how I want to use them. Thank you all so much.
Harry
03/04/2018
Verified Buyer
Awesome customer service!
I just want to acknowledge that Musicmakers in Stillwater, MN, not only sent me an awesome Reverie Harp (ok, I sent them a little money for it), but I also received a HAND WRITTEN note today thanking me for my purchase. Does that kind of awesome customer service still exist??? Well, with them it does. LOVE you guys. Keep up the good works! I love love love my harp. Makes me happy:)
Marianne Decher, Portland, OR
03/04/2018
Verified Buyer
1 of 1 customers found this helpful.
a wonderful soothing tool
Hello, My name is Margaret Stephens and I am a contracted Therapeutic Harp Practitioner at the Norris Cotton Cancer Center in Lebanon, NH. My supervisor purchased a Reverie Harp in 2010 (?) and I use it frequently in my work with patients and families. A local TV station did a short piece on our Arts Program at the Cancer Center and I thought you would like to see me using the Reverie Harp. I offer to give people 'musical massages' and they just love the vibrations. There have also been several people who have purchased a Reverie from you because they experienced it and loved it (Karen Speerstra and James Lowry). It is a wonderful soothing tool to share with people.
Margaret Stephens
03/04/2018
Verified Buyer
1 of 1 customers found this helpful.
we play it with our 4-year old grandson
I purchased the Reverie Harp for my husband to Christmas. He loves it, shows it to everyone. This evening he and his 4 year old great grandson played it together. He plans to take it with him when he visits the nearby nursing home. We are very happy with the harp.
Joan
03/04/2018
Verified Buyer
I ordered a second one
Thank you! It's the second time that I order Reverie harps. People around me liked this instrument so much, so that's why I'm asking for more. Blessings!
Kira
03/04/2018
Verified Buyer
A state of blissful peace
Thank you for such a beautiful musical instrument. It is everything I imagined. I use the harp in my Reiki-Sound Healing practice. My clients go into a state of blissful peace when I play the harp along with the Tibetan singing bowls. I also have placed the harp on my clients body for them to experience a deeper feeling and sense of the harmonic sounds. I made a very wise choice in purchasing your Reverie Harp. Bless You!
Teresa
03/04/2018
Verified Buyer
1 of 1 customers found this helpful.
The reverie harp is a treasure
Beyond satisfied. The reverie harp is a treasure . In my work as a hospice chaplain to people with dementia, where language is no longer an effective way to reach them, the music has been extraordinary. And not being a 'real' musician, this harp is ideal for my needs. Plus it's just a lovely object. Thank you very much.
Alexis
03/04/2018
Verified Buyer
We purchased 11 of them!
The sound and vibration can sometimes calm people who don't respond to calming words, and helps us to reduce the use of sedating medicines.
Dr. Lindpaintner (Concord Hospital, acute care)
03/04/2018
Verified Buyer
1 of 1 customers found this helpful.
reverie harp classic
Truly a wonderful instrument, Good craftmanship and sound quality10 stars. Thanks.
GAREN SIMMONS
01/26/2018
Verified Buyer
2 of 2 customers found this helpful.
Blind and happy.
What a beautiful piece of art. Not only does it entertain my now blindmother and allow her to use her hands to make music. Beautiful music without training or that she has to read. But it's gorgeous to look at and feel beneath my fingers. I'm going to have a metal plaque made with her name engraved on it then glue it on the back. Thank you for making my Moms restless hands feel useful.
Nancy McCulley
10/21/2017
Verified Buyer
2 of 2 customers found this helpful.
Reveri Harps
The reverie harp is better then expected. Truly a wonderful instrument, ,has a sound like no other. Worth every Dollar.
Jean Shackelford
09/16/2017
Verified Buyer
4 of 4 customers found this helpful.
Lovely Harp
Sweet little harp for use in personal prayer or nursing home/hospice work.
Sally
08/29/2017
Verified Buyer
2 of 2 customers found this helpful.
Peace and calm in a bag!
I first saw a Reverie harp during the Virtual Harp Summit and thought "how nice", but had absolutely no plans to buy one. But, the idea kept niggling at me... then I started watching the YouTube videos and started thinking "I might need one of those..." Then I decided that I needed more peace and calm in my life and the idea of owning one became an itch and then a craving. I have both a pedal and a lever harp, but sometimes one just needs to sit back with a little harp on one's chest and pluck random strings and make "soul music" - music that promotes peace and calm. Super-fast shipping and, after stalking the harp via the delivery tracking info, I got it, pulled it out of the packaging and promptly lost a half hour in delightful "reverie". Aptly named! It is my daily meditation now...
Peggy Helminiak
08/08/2017
Verified Buyer
9 of 9 customers found this helpful.
Beautiful and portable
A truly beautiful instrument in so many ways. Really like the shape, size, and sound. I am not a musician and neither are some of the people I work with so I was looking for a harp that is portable and playable by all. This definitely fits the bill! When held, the harp vibrates and resonates thru the body in a very healing and soothing way. It allows spontaneous compositions and exploration. And the gig bag makes it easy to take anywhere. Thank you for creating a harp that is truly accessible to all.
Marlou Russell, psychologist
08/06/2017
Verified Buyer
12 of 12 customers found this helpful.
Reverie harp brings inspiration
My friend loaned me her Reverie about 2 months ago, and I just HAD to own one myself. I'm totally overwhelmed by how beautiful and melodious, not to mention easy to play, this instrument is. The workmanship is extremely high caliber, and the egg shape is perfect for hugging it to my torso to play it, I love the way it vibrates through my body. I primarily use it to help my husband who has a chronic illness, but it's also good just for me. The sound is soothing and inspirational. I keep it in pentatonic tuning, so I can play mindlessly and still have a wonderful experience. Thank you for your dedication to excellence and for your careful packaging and speedy shipping. I found my interactions with you smooth, responsive, and most helpful. Thanks!
Rebecca A
07/07/2017
Verified Buyer
11 of 11 customers found this helpful.
What a gift!
I received my Reverie Harp and am so excited to share this wonderful gift with my clients and so many more. I have never played the harp, or even a string instrument for that matter, and this is such an easy wonderful way to convey sound. I practice Singing Bowl Sound Therapy in Cedar Rapids Iowa and have been adding this to work with clients and it has been a huge hit. I can't wait to see where this gift takes me!
Maria Dummermuth
06/25/2017
Verified Buyer
7 of 7 customers found this helpful.
Beautiful Relaxation Tool
I've received my Reverie Harp. What a beautiful relaxation tool to add to my business, Healing Sounds Harpistry! The simplicity and ease of playing evoke such gentle, beautiful sounds, taking one out of left brain thinking and judgment that is associated with musical performance and instead to a state of relaxation for not only anyone for which the Harp is being played, but for the player as well. The shape, weight and overall design of the Reverie Harp are such inviting features that call to people to come pick up the Reverie Harp and begin. The customer service from Matt at Musicmakers was fantastic; it was wonderful to feel the attention and dedication to this purchase as if I were the only Musicmakers' customer, which we know is not the case for this wonderful company. Thank you for the perfect transaction, fast shipping and beautiful creation.
Cindy Curry
06/08/2017
Verified Buyer
13 of 13 customers found this helpful.